There are many highballs, and we would like to introduce you to the ones we like best. This time it's a highball made from rye whiskey and ginger ale.

40 ml Jack Daniels Rye
80 ml Thomas Henry Ginger Ale
Preparation: Build in a highball glass with ice cubes.
We have dedicated a separate post to the Bourbon Highball and elaborated on what a highball is. The definition is simple and may surprise some: a highball is a combination of a spirit and a non-alcoholic carbonated drink such as soda water or ginger ale. This makes it nothing more than a Simple Modern Grog if you use soda water, or a Modern Toddy if you use ginger ale.
Some may see it differently, but an analysis of the historical beverage categories does not allow any other conclusion. For example, if you add some lemon juice, it is no longer a highball, even if the drink may be called that, but a transitional form towards another category; if it also contains a sweetener, it would be a punch. If only a zest is added, it would rather be considered a skin.
There are countless highballs. We like the classic Bourbon Highball as a combination of bourbon & ginger ale or bourbon & soda water. A classic Brandy & Soda is also a highball. Neither is a Brandy & Ginger Ale to be despised.
However, the combination of a rye whiskey with ginger ale is also a delight. This is also called Rye & Dry in the historical books. We like this designation, which is why we would like to use it, even though one could just as aptly say "Rye Whiskey Highball with Ginger Ale".
In the collection of historical recipes in the appendix, we have included those recipes that are related to the Rye Highball presented here.
Enjoy it!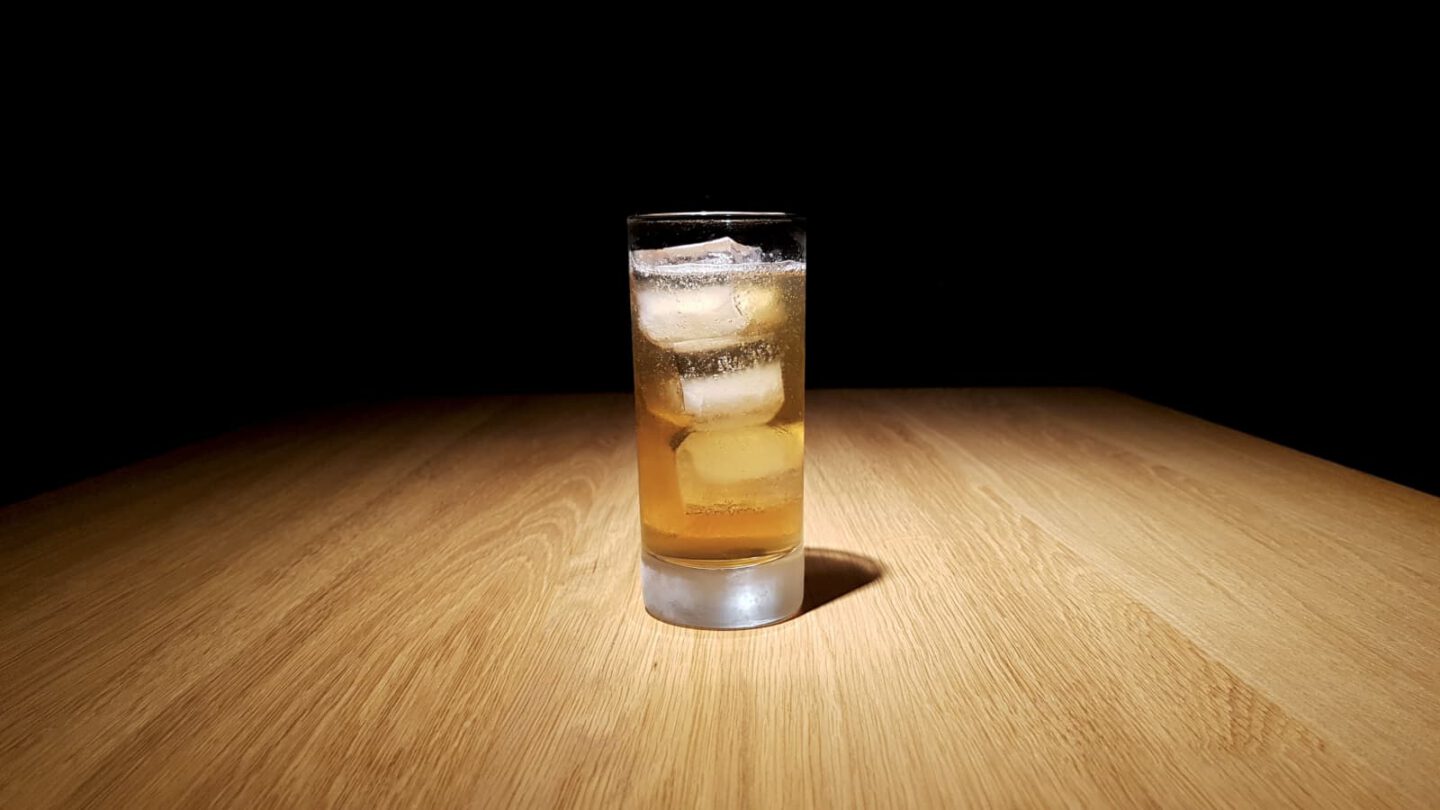 Historical recipes
1933 John F. Driscoll: The Home Bartender. Seite 27. Rye High Ball.
1 jigger rye Whiskey, and make as directed.
Seite 27. High Balls.
Service of High Balls. Place cube of Ice in Glass, Pour
Liquor desired into Glass and Fizz with Seltzer, or mix
with Ginger Ale or Soda Water. Stir and Serve.
1934 Irvin S. Cobb: Irvin S. Cobb's Own Recipe Book. Seite 44. Ginger Ale Highball.

Made as above, using any Frankfort Distilleries
Rye or Bourbon Whiskey and using ginger ale instead of carbonated water.
Personally, I dislike to see the taste of fine whiskey sullied by ginger ale.
Seite 44. Whiskey Highball.
To 1 cube of ice add drink of any Frankfort Distilleries
Rye, or Bourbon Whiskey and fill up with carbonated water. Add small piece
of Lemon Peel if desired. The standard beverage of the Western World.
1935 Anonymus: The Art of Mixing Drinks. Seite 73. Scotch Highball. Rye Highball.
Made in the same manner as Bourbon high-
ball using the respective liquors in place of
bourbon.
Seite 73. Bourbon Highball.
2 Cubes of ice
1 Jigger Bourbon whisky
Use an 8 ounce tall glass and fill with car­-
bonated water or gingerale. Serve with a small
bar spoon in the glass and a piece of lemon
peel if desired.
1937 Anonymus: Here's How. A Great Mixer in Any Company. Seite 13. Rye Highball.
Place two pieces of cube ice in highball
glass. Add jigger good rye whiskey. Fill
with Sparklet Syphon, serve with stirrer.
If ginger ale is preferred with this drink,
flavor with Sparklette Ginger Ale Syrup
to taste. Some people enjoy a slice of
lemon in their rye highball or, as in the
Scotch highball, like a twist of lemon peel
dropped into the liquor.
1953 Leo Cotton: Old Mr. Boston Official Bartender's Guide. Seite 127. Rye Highball.

1 Cube of Ice
2 oz. Old Mr. Boston Rye Whiskey
Fill 8 oz. Highball glass with Ginger
Ale or Carbonated Water. Add twist
of Lemon Peel, if desired, and stir
gently.
1966 John Doxat: Booth's Handbook of Cocktails and Mixed Drinks. Seite 78. Rye and Dry (Canadian).

2 oz. Seagram's V.O. Whisky poured over ice in squat
tumbler. Top with Dry Ginger Ale.
1972 Leo Cotton: Old Mr. Boston. Seite 85. Rye Highball.

1 Cube of Ice
2 oz. Old Mr. Boston Rye Whiskey
Fill 8 oz. highball glass with ginger
ale or carbonated water. Add twist
of lemon peel, if desired, and stir.
1972 Trader Vic: Trader Vic's Bartender's Guide, Revised. Seite 241. Rye Highball.

2 ounces rye whisky
Ginger ale or club soda
Pour rye over 1 ice cube in an 8-ounce highball glass. Fill
glass with ginger ale or soda. Add a twist of lemon peel, if
you wish. Stir gently.
1973 Anonymus: 500 Ways to Mix Drinks. Seite 48. Ginger Ale Highball.
2 1⁄2 oz. rye whiskey
2 cubes of Ice
Pour into glass and fill with
ginger ale. Add a twist of
lemon peel.
1977 Stan Jones: Jones' Complete Barguide. Seite 389. Rye and Dry.

Cocktail Glass Stir
1-1/2 oz rye
1 oz dry vermouth
1 dash orange bitters
explicit capitulum
*