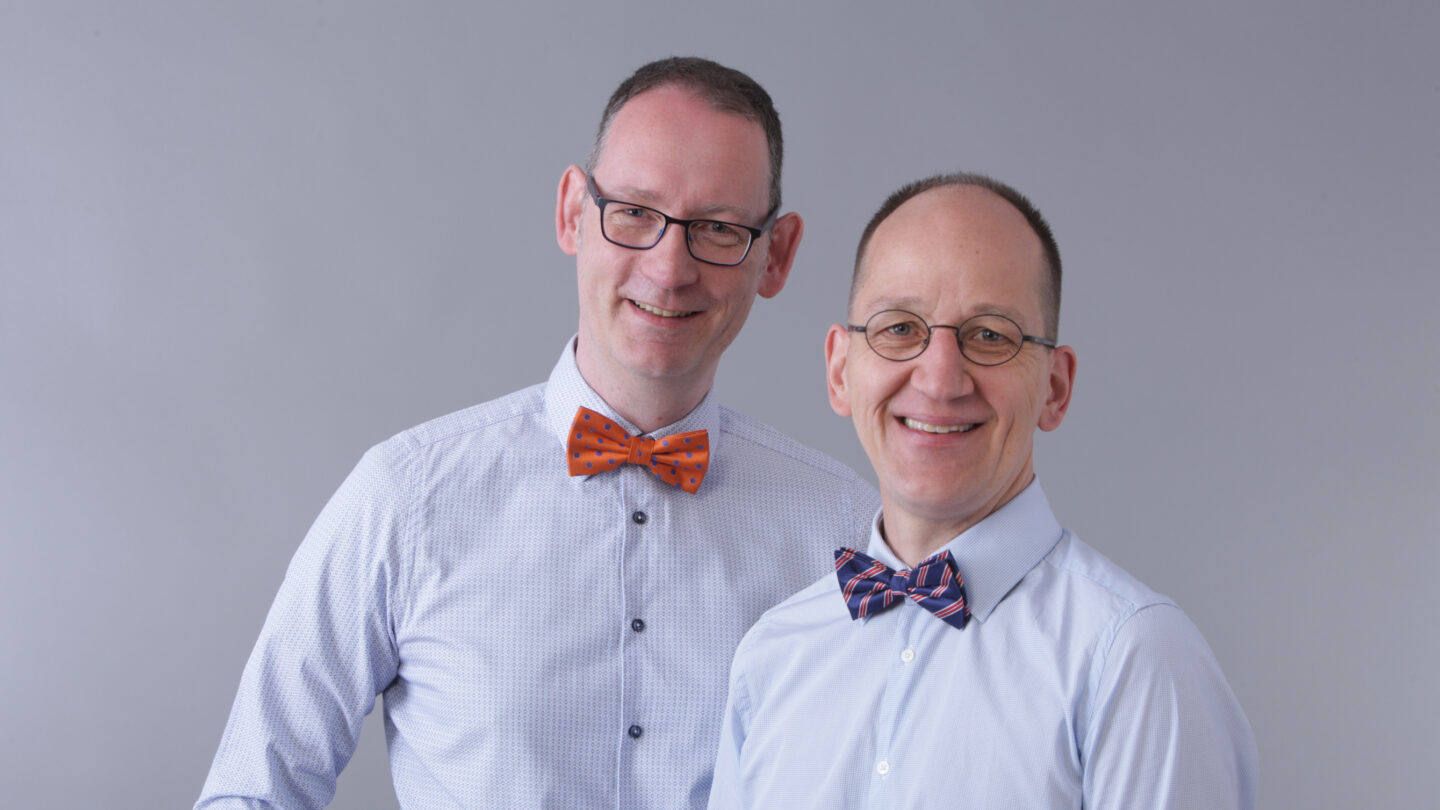 Who are we and what do we want?
We, Armin Zimmermann and Frank Arne Poremba, are two Bildungstrinker from Hanover in Germany in search of enjoyment and perfection in the cocktail glass and strive to continuously increase and share our knowledge in the field of bar art.
What is a Bildungstrinker?
With the term Bildungstrinker we associate the Bildungsbürger, a member of the Bildungsbürgertum. What do we mean by this?
The German Wikipedia writes: "Bildungsbürgertum or Bildungsbürger is the term used to describe a … social class that considers humanistic education, literature, science and involvement in the state and community to be very important and cultivates them. The European Bildungsbürgertum emerged in the mid-18th century, especially among Protestant pastors, professors, doctors, wealthy merchants and leading civil servants. … The decisive characteristic of the educated middle class, also in its self-perception, is its approach to culture."
The English Wikipedia clarifies: "The term Bildungsbürgertum is a concept difficult to translate into the English language. The notion of the word "Bildung" has broader meaning than that of "culture", or "education", and is deeply rooted in the idea of the Enlightenment. The term also corresponds to the ideal of education in the work of Wilhelm von Humboldt. Thus, in this context, the concept of education becomes a lifelong process of human development; rather than mere training in gaining certain external knowledge or skills, education is seen as a process wherein an individual's spiritual and cultural sensibilities as well as life, personal and social skills are in a process of continual expansion and growth, … which clashes with the concept of bürgertum, a privileged but intellectually ignoble social class."
The term Bildungstrinker should be understood in this context. It is not about drinking, but about enjoyment. The opposite of the Bildungstrinker is the effect drinker, who is only interested in getting as drunk as possible. The Bildungstrinker, however, knows where the limits are. At the same time, he is interested in learning more about the drink he has in his glass. Where did it originate, who developed it, what interesting things can be said about it? The Bildungstrinker is also naturally interested, for example, when visiting a bar, in having a civilised conversation with other guests of the most diverse origins and in developing himself further, entirely in the described sense of the Bildungstrinker.
The motto of the Bar Vademecum is therefore in German: "Wissenswertes für den Bildungstrinker", one could translate it literally as "Things worth knowing for the educational drinker". But this gives the meaning a different meaning, especially since Bildungstrinker is practically impossible to translate correctly.
In order to make it clear to our English-speaking readers what our blog is about, we have decided to take a different approach in English. We have therefore chosen "The guide to the history of mixed drinks".
In the translation, we might sometimes talk about the Bildungstrinker or the "educational drinker". Now you know how this is to be understood.
What is the back story of this blog?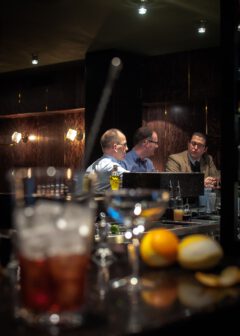 Our project started in 2012 when we felt like enjoying cocktails again after a long time. We discovered a bar near us that we liked very much and visited it at regular intervals. We made notes about which of the drinks served we particularly liked. With this in mind, it made sense to visit a bar occasionally on holiday as well. When we visited the "Bramble Bar" in Edinburgh, we experienced cocktail culture on a level we had never thought of before, and the Le Lion in Hamburg was also an inexhaustible source of inspiration. The idea matured in us to deal with bar culture more intensively and at a higher level. The notes became more extensive, bartenders became valued conversation partners, cocktail books were pored over, recipes were tried out and mixed. Since then, we regularly take trips to other cities, especially Hamburg and Berlin, to visit different bars and complete our knowledge. Visits to the Bar Convention in Berlin have also become an integral part of our own training.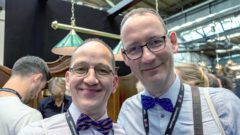 By the time we started this blog, our little notebook had grown to a collection of over 300 pages, spread over two handy folders that we always carried with us on our trips. True to the motto "sharing is caring", we believe that knowledge must be shared. Aus diesem Wunsch heraus wurde die IdThe idea of a Bar-Vademecum was born out of this desire, not least because Jörg Meyer publicly called for more quality blogs to appear in Cocktailpodcast 28 / Bildungstrinken 15, created on 27. December 2014 at the 31st Chaos Communication Congress (from 11:47). We then considered for a few months whether we should answer this call and finally decided to comply with his wish, and on 4 July 2015 our first post appeared. We want to be a competent source of information for others who are interested. This is also reflected in the naming of our website and leads to the question:
What is a Vademecum?
Literally translated from Latin, "vade me cum!" means "go with me". Since the end of the Middle Ages, it has been used to refer to handbooks, guides and counselors of all kinds. In the student language of the Middle Ages, a vademecum was a handbook that provided wandering students with helpful addresses and hints and was carried along as an indispensable companion on journeys.
What does the Bar-Vademecum want to be?
Like its historical model, the Bar-Vademecum is intended to be a helpful handbook for the "wandering educational drinker" that is always at hand. In our modern times, of course, this is no longer done as a printed booklet, but as an internet presence that can be accessed easily and everywhere.
In our own research, we always missed a central point of contact for our questions that provided us with high-quality information, especially about the history of the individual drinks. So we had to painstakingly get our own picture first, with the help of the internet and various books. Therefore, we believe that other educational drinkers feel a similar need and are confident that we will be able to gradually close this gap with the Bar-Vademecum.
What topics does the Bar Vademecum cover?
Basically, we report on everything that we think might be of interest to educational drinkers. This includes, for example, the history and recipes of individual drinks, because after all, you want to know more about what is currently in the glass. Accordingly, articles on spirits, literature and bar techniques should not be missing, of course. Occasionally, we would also like to recommend bars that we have particularly enjoyed to our readers.
What are our principles?
We always cite the sources for our contributions and give further reading recommendations where this promises added value. This makes it clear to every reader how we arrive at our statements.
We only write about topics that interest us and that we believe will add value for our readers. Likewise, we only write about products of whose quality we are convinced. We believe that only through this independence can we be and remain credible. We do not accept any money to produce a contribution as a commissioned work. Even if we have received products or have been invited to a manufacturer's event, this does not mean that we will also report on them. This happens – for the reasons mentioned – only if the product convinces us, not just because we have received it.
We strive to publish high-quality and well-researched articles.
If we receive any comments or emails, we will reply as soon as possible.
How do you stay in touch with us?
We hope that you will find interesting articles in the Bar-Vademecum. We would be happy if you followed our blog and got in touch with us. We are always interested in an exchange of ideas.
There are several ways to stay in touch with us. You can subscribe to new posts with an RSS feed, subscribe to new comments with an RSS feed, or you can contact us directly using the contact form or right here at the bottom of the page. Of course you can also send us an e-mail directly. Our email addresses are:
armin-ät-bar-vademecum.de
frank-ät-bar-vademecum.de
Note: To avoid spam, we have changed the email address. Please replace the -ät- with @.
We look forward to welcoming you as a reader of our blog!
Contact form
Here you can send us a message. Please fill in the following fields and send your message afterwards.
explicit capitulum
*