Rye whiskey, vermouth, pear and allspice – this is the winning combination of Springtime in Charleston, developed collaboratively by Andrej Busch and Gregor Stitzl at Le Lion.
50 ml 1776 Rye James E. Pepper
25 ml Noilly Prat Ambre vermouth
15 ml Scheibel Premium Williams
1,25 ml Dale DeGroff's Pimiento Aromatic Bitters.
Preparation: stirred.
At the end of 2012, it must have been in November or December, Gregor Stitzl visited Le Lion during the week. It was quite a quiet evening during the week , and Andrej Busch, now bar manager at the Boilerman Bar, was working at Le Lion at that time and was working behind the bar that evening. [3]
A conversation ensued between the two, and Gregor Stitzl talked about a drink he had found in a blog shortly before. A rather old-fashioned drink, reminiscent of his favourite Sazerac and Vieux Carré. So it was decided to simply give this found drink a try. The result, however, was boring and disappointing. However, the ingenuity of the two was awakened and they both thought that something could be done with it in a similar direction. [3] [4]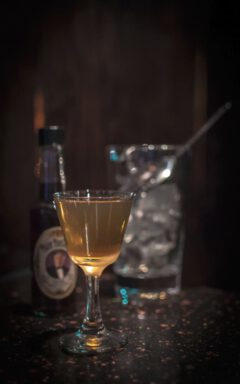 Shortly before, it was in the middle of the year, Dale DeGroff's "Pimento Aromatic Bitters" had come onto the market, whose main ingredient is allspice. Andrei wondered what to do with these bitters. He thought they could be used in something like an old-fashioned cocktail or a Manhattan cocktail. [1] [2] [3]
On this evening, they began to develop a drink together with these Pimento Bitters. In the course of the evening, about 3 further development stages were created, which were tasted by Andrej and drunk by Gregor. At some point, they came up with the idea of using Williams pear as a second base spirit. Gregor Stitzl can no longer remember from whom this idea came. But since he likes to cook a lot, it is quite possible that in connection with the spicy allspice this idea might have sprung from his, as he so nicely put it, "brain, which was already a little winged at that point" –  "zu diesem Zeitpunkt schon etwas beflügelten Hirn entsprungen sein dürfte". [3] [4]
So there was a lot of tasting and everyone added their ideas. The recipe of the drink created that evening was slightly adjusted by the Le Lion team at a later tasting and added to the recipe database as "Springtime in Charleston". [3]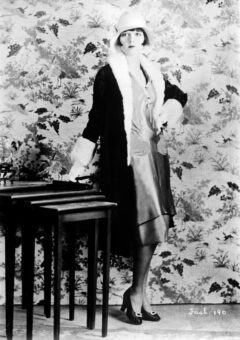 The name of the drink came about on the very first evening, and Gregor Stitzl describes very nicely how it came about: "From the very beginning, the drink evoked associations in me of the 20s/30s, of women in slim, short-cut sequin dresses, cigarette holders and short hairstyles, drinking exuberantly and dancing Charleston. Whether in the city of Charleston or elsewhere. That's how the name came about. In the days that followed, I wasn't quite happy with spring, since pear and allspice are actually more autumnal flavours. I then suggested to Andrej by email that the drink should be called "Charleston Flapper", because the self-confident women described were known as flappers at the time. But at that point the recipe was already recorded in the Le Lion computer as "Springtime in Charleston"." [4]
– "Der Drink weckte in mir von Anfang an Assoziationen an die 20er/30er Jahre, an Frauen in schmalen, kurzgeschnittenen Pailettenkleidern, Zigarettenspitzen und Kurzhaarfrisuren, die ausgelassen trinken und Charleston tanzen. Ob nun in der Stadt Charleston oder anderswo. So entstand der Name. Ich war in den Tagen danach noch nicht ganz zufrieden mit dem Frühling, da Birne und Piment ja eigentlich eher herbstliche Aromen sind. Ich habe Andrej dann noch per Mail vorgeschlagen, den Drink "Charleston Flapper" zu nennen, denn die beschriebenen selbstbewussten Frauen wurden damals ja bekanntermaßen Flapper genannt. Doch zu diesem Zeitpunkt war das Rezept bereits im Computer der Le Lion als "Springtime in Charleston" erfasst." [4]
It is unanimously said that a Willet Rye is an integral part of the drink. [4] [5] We can confirm this. This whiskey produces a wonderful, fruity interplay of aromas that we have not yet been able to achieve with any other whiskey. However, Willet Rye is difficult to find and has become extremely expensive. During our tastings, we came across the 1776 Rye. The drink is not fruity, as with a Willet, but very spicy. It no longer corresponds to the original aroma, but it is by no means bad, just different. As we read later, the same variant was found at Le Lion. [5]
Sources
https://www.facebook.com/DaleDeGroffsPimentoAromaticBitters/posts/260658914045151: Dale DeGroff's Pimento Aromatic Bitters,  30. July 2012.
http://dinersjournal.blogs.nytimes.com/2012/07/19/dale-degroff-introduces-new-bitters/?_r=0: Robert Simonson: Bringing Back a Bitters With a Twist. 19. July 2012.
Conversation with Anrej Busch on 27 December 2016.
Email from Gregor Stitzl dated 3 January 2017.
http://wordpress.zarkov.de/2016/06/24/springtime-in-charleston-cocktail-rezept/: Springtime in Charleston Cocktail. Von Dirk Wäscher, 24. June 2016.
https://commons.wikimedia.org/wiki/File:Louise_Brooks_ggbain.32453u.jpg, basierend auf https://commons.wikimedia.org/wiki/File:Louisebrooks1.jpg. Louise Brooks, 25. July 1927.
Recipes
2014 Bettina Kupsa, Le Lion, am 26. Juli 2014. Springtime in Charleston. 5 cl Willet Single Barrel Rye; 2,5 cl Noilly Prat Ambre; 2 Dash Dale DeGroff Pimento Bitters; 1,5 cl Theo Preiss Eau de vie de Poire Williams.
2016 http://wordpress.zarkov.de/2016/06/24/springtime-in-charleston-cocktail-rezept/ Springtime in Charleston. 5 cl Willet Rye – Willet Family Estate Single barrel Rye, 4 Years; 2,5 cl Noilly Prat Ambré; 1 cl Williamsbrand; 1-2 Dashes Pimento Bitters – nicht damit übertreiben.
explicit capitulum
*