The Butchertown cocktail is a successful variation of a Manhattan cocktail in which the vermouth is replaced by sherry and additional orange flavours are added by using a triple sec.
60 ml James E. Pepper 1776 rye
22,5 ml Lustau Los Arcos amontillado sherry
7,5 ml Combier triple sec
1 Dash Scrappy's orange ritters
1 Orange zest as garnish
Preparation: Stirred, sprinkle with an orange zest.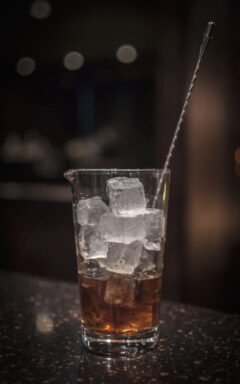 The Butchertown Cocktail originates from the Prizefighter in Emeryville, California, near San Francisco, located between Oakland and Berkley. It was created in late 2011 or early 2012 as one of the bar's first drinks. It is often attributed to Jon Santer, but as he told us, it was a collaborative creation between him and his business partner Dylan O'Brian. At the time, they developed a new section of the menu whose theme was "Neighbourhood Cocktails", i.e. cocktails that have emerged in recent years as Manhattan variations, originate from New York bartenders and whose names mostly refer to neighbourhoods in New York. Examples include the Redhook, Green Point and Cobble Hill. The Butchertown Cocktail is based on a similar drink that Dylan had developed shortly before, and we will discuss it in more detail. Jon modified this predecessor somewhat for the Prizefighter. Both Jon and Dylan are big sherry lovers, and they wanted to put an equally contemporary and classic cocktail on the menu, based on sherry and whisky. According to their credo that almost all great drinks, with a few exceptions, consist of a maximum of three or fewer ingredients with additional optional bitters, their drink should meet these criteria. [1] [8]
Only drinks that met these criteria were included in the opening menu, and their new cocktail was among them. It was named "Butchertown Cocktail" because about 80 years ago the neighbourhood of the bar was called "Butchertown" [1] because there were many slaughterhouses there. [9] The Prizefighter Bar is housed in a former cannery of local fishermen. [1]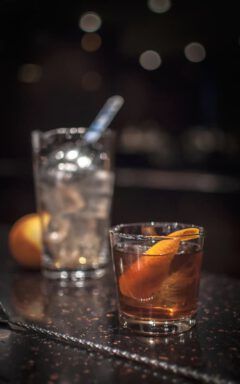 But now we would like to say a few words about the predecessor of the Butchertown Cocktail. This was created in 2011 for a friend of Dylan's who worked for Templeton Rye. She was organising an event that was also supported by a Spanish company, so she asked Dylan to make a drink with Templeton Rye and Spanish ingredients. This event was in aid of the "Movember" foundation. [2]
The name of the foundation is a combination of "moustache" and "November" for the month. The idea is that participants register on 1 November and grow a moustache until the end of the month. During this time, friends and acquaintances of the participant can donate money to Movember in their name, which is collected for research into and prevention of prostate cancer and other men's health problems. [3]
Unfortunately, Dylan has not found the exact recipe in his emails anymore, but it was something like this:
2 oz Templeton Rye
.75 oz Amontillado Sherry
.5 oz Gran Torres Orange Liqueur
3 dashes Orange Bitters
Method: Stir
Glass: Coupe
Garnish: Long lemon twist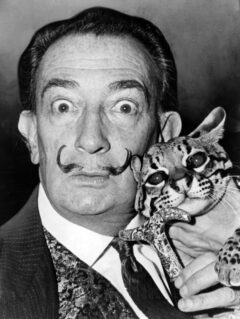 This drink was named the "Dalí Cocktail" and the lemon zest has to be REALLY long, in reference to the swirly beard that Dali is known for. [2] He even gave his name to this type of moustache. After all, the total length of Dali's beard from beard tip to beard tip in 1954 was a full 25 centimetres. [4] [5] Basically, the Dalí cocktail is the same as a Butchertown cocktail, but a little more on the sweet side due to the Gran Torres orange liqueur used. [2]
Finally, we would like to point out that the name "Butchertown" is unfortunately not original for a cocktail, as there are at least two other drinks with the same name. [10] [11]
Sources
E-Mail of Jon Santer from 4. March 2017
E-Mail of Dylan O'Brian from 5. March 2017
https://de.wikipedia.org/wiki/Movember: Movember.
https://de.wikipedia.org/wiki/Schnurrbart: Schnurrbart.
https://de.wikipedia.org/wiki/Dali%E2%80%99s_Mustache: Dali's Mustache.
https://de.wikipedia.org/wiki/Salvador_Dal%C3%AD#/media/File:Salvador_Dali_NYWTS.jpg: Salvador Dali with Babou, the ocelot and cane. 1965.
http://content.cdlib.org/ark:/13030/kt6t1nd2rg/?layout=metadata&brand=calisphere: View of Stockyards, Emeryville, 1915. From the Vernon J. Sappers collection at the Oakland History Room, Oakland Public Library. The photograph shows a view from the top of the Emeryville stockyards. Negative number in Oakland History Room's collection : F-1863.
http://www.esquire.com/food-drink/drinks/recipes/a13177/butchertown-cocktail-prizefighter-7284906/: Cocktail of the Week: Butchertown. By Paul Schrodt, 12. March 2012.
https://books.google.de/books?id=yWqlMo7Cir8C&pg=PA45&lpg=PA45&dq=butchertown+emeryville&source=bl&ots=5CKmbhfLNa&sig=OqFrBkfh5IapkeVlfFiIIwYc8eU&hl=de&sa=X&ved=0ahUKEwjs6qfS3brSAhWGF8AKHS8ZCqMQ6AEINzAC#v=onepage&q=butchertown%20emeryville&f=false: Anonymus: Emeryville. Arcadia Publishing, The Emeryville Historical Society, 2005. Page 45-46.
http://cocktailvirgin.blogspot.de/2013/02/butchertown.html: Butchertown. 1. February 2013.
http://and1morefortheroad.blogspot.de/2012/06/butchertown-cocktail.html: The Butchertown Cocktail. By Rhett, 19. June 2012.
Recipes
2017 E-Mail from Jon Santer. Butchertown Cocktail. 2 dashes Orange Bitters (we use a combination of Fee's and Reagan's); 0.25 oz Cointreau; 0.75 oz Amontillado Sherry; 2 oz Rittenhouse Rye 100. Combine and stir over large ice in a mixing vessel. Strain into a small frozen cocktail glass. Garnish by expressing the oil of an orange peel over the top of the cocktail, then dropping it in.
explicit capitulum
*