The Billionaire Cocktail shows what wonderful cocktails can be conjured up with bourbon.
60 ml Baker's 107 Bourbon or Knob Creek bourbon
30 ml lemon juice
15 ml sugar syrup (2:1)
15 ml D'Arbo pomegranate syrup
5 ml Duplais Verte absinthe
1 thin lemon wheel as garnish
Preparation: Shaken. Serve with a thinly sliced floating lemon wheel.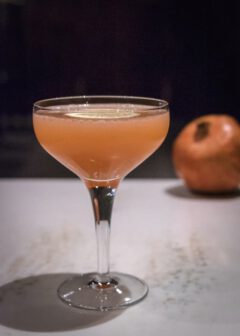 The Billionaire Cocktail was created by Dushan Zaric, co-founder of the Employees Only Bar in New York. [2] It is intended to show the possibilities of an overproof whiskey. After its development, the task was to find a suitable name. Only then did it become apparent that it resembled a classic Millionaire Cocktail. Inspired by this, they came up with the idea of calling the new drink "Billionaire Cocktail", not only because of inflation, but also because the new drink is "richer in taste" in their eyes. [1]
The original recipe differs from ours, we use an absinthe instead of the absinthe bitters. We have also tasted the cocktail with the absinthe bitters, but are of the opinion that the effort of making it is not worth it, especially as an equally good result can be achieved with the Duplais absinthe and the drink appears somewhat more clearly structured. It also turns out that a spicy drink can alternatively be made with Knob Creek Bourbon with a non-overproof whiskey.
Sources
Jason Kosmas & Dushan Zaric: Speakeasy, Classic Cocktails reimaged, from New York's Employees Only Bar. ISBN 978-1- 58008-253-2. Berkeley, Ten Speed Press, 2010. Page 64.
http://www.saveur.com/article/Recipes/Billionaire-Cocktail: Billionaire Cocktail. 14. September 2012.
Recipes
2010 Jason Kosmas & Dushan Zaric: Speakeasy, Classic Cocktails reimaged, from New York's Employees Only Bar. Seite 64. Billionaire Cocktail. 2 ounces Baker's 107-proof bourbon; 1 ounce freshly squeezed lemon juice; 1/2 ounce simple syrup; 1/2 ounce Grenadine; 1/4 ounce Absinthe Bitters; 1 lemon weel, for garnish. Seite 161. Absinthe Bitters: 3 cups Pernod 68 absinthe; 1/2 cup Green Chartreuse; 1 teaspoon Peychaud's bitters; 1 teaspoon Angostura bitters; 2 tablespoons Fee Brothers mint bitters.
explicit capitulum
*