This post aims to establish since when the "classic" ingredients of a cocktail, i.e. spirit, bitters, sugar and water, have been combined.
Due to its size, this treatise on the origin of the cocktail will be published in several parts, as follows:
Part 2: The cocktail ingredients according to the classic definition
First intermediate review
We have shown the importance of Stoughton's Bitters. On the one hand, they are explicitly called for in older cocktail recipes in particular, and on the other hand, they are historically significant in the history of bitters. So we have dealt with one ingredient of cocktails, the bitters, in more detail. But what about the other ingredients that make up a cocktail according to the classic definition from 1806, the spirit of any kind, sugar and water? That is what our next chapter will be about.
The cocktail ingredients according to the classic definition
If we now consider the definition of a cocktail as it has been handed down from 1806, according to which a cocktail consists of a spirit, sugar, water and bitters, the question arises as to when these individual ingredients were available and how they were taken. In the following, we will deal with them individually in order to understand whether they were first combined in a "modern" cocktail or whether their use can be traced back further.
Bitters & Spirits
In the last chapter we wrote in detail about Stoughton's Bitters. It should be emphasised once again at this point that these were also added to spirits such as cognac. So we already have two cocktail ingredients that were combined in a provable way: Bitters and spirits. This was quite a common practice, for we read of it not only in connection with an advertisement for Stoughton's Bitters, but David Wondrich likewise enlightens us that in London in the middle of the 18th century not only "brandy and bitters" or "wine and bitters", but also "gin and bitters" was quite common.[1-214] [10] This development thus corresponds very well to the change in drinking habits in England. There, people drank fermented beverages such as ale and cider for centuries, but with the accession of William of Orange in 1689, English distilleries began to produce gin, and the population switched from the weak alcoholic beverages to gin as a result. The consumption of alcohol was something normal, because infectious diseases were widespread at that time. Bacteria were not yet known, and the only protection against them was to drink only alcoholic beverages. [7] [11]
According to Tristan Stephenson, the gin used at that time did not have much to do with today's London Dry Gin. Rather, it was produced differently, often of poor quality, and so people liked to add sugar to make it more drinkable. A typical representative of a sweetened gin is the so-called Old Tom Gin. However, this gin apparently only came into being as a result of the Napoleonic trade embargo, when jenever could no longer be exported to England, [12-32] even though other sources claim that Old Tom Gin already existed in the 17th century. [13] We will have to pursue this question in a separate post. So whether sugar was already added to gin in the 18th century, we cannot say for sure now. But sugar is an integral part of a cocktail, and so we need to look at it a little more closely to understand since when sugar was used in addition to a spirit with bitters.
Sugar
Indirectly, sugar was also used with an "Old Tom Gin and Bitters", but this use of sugar is not old enough for our analysis. However, there is other evidence that a spirit was combined with bitters and sugar in England.
For example, we should not ignore the fact that the use of sugar in a mixed drink was not uncommon. It was used as an ingredient in punch as early as the 17th century.[15-130]
Take as another example the clan leader Simon Fraser, called Lord Lovat, who led a Scottish rebellion in 1745. [1-213] [3] He was captured by the British, imprisoned and sentenced to have his head cut off in the Tower of London. As a member of the high nobility he was entitled to this privilege, otherwise he would have been hanged. [1-213] On the eve of his execution he asked to be given some wine and bitters the next morning. As the bitter bottle was empty, someone was sent to buy a bottle of Stoughton's Elixir. These were still the leading bitters at the time, even though there were many other products on the market. The keeper, meanwhile, came with a bottle of "burnt brandy and bitters" that had been lying around. [1-213] [4] [5] Burnt brandy is made by placing brandy on the fire and melting sugar over the resulting flame. As soon as the flame diminishes, the sugar is stirred into the brandy and the whole is drunk. Originally, this drink was considered a medicine and from the mid-17th century to the mid-19th century it was the remedy that any reputable doctor would have prescribed for constipation or stomach ailments. But of course people also took the drink simply for pleasure. [1-213] [6-10] As late as 1895, George J. Kappeler, in his book 'Modern American Drinks', recommended a 'Burned Brandy', saying it was good for diarrhoea. [19-24] David Wondrich even goes so far as to state that the brandy people drank at that time was always sweetened. [10]
David Wondrich goes even further, and sees in a "burnt brandy and bitters" a direct reference to the "bottled brandy cocktail" as it was made in Jerry Thomas' time, only that the alcohol content of the drink was not reduced by adding water, but by burning alcohol. [1-214] This chain of thought is not so far-fetched, for with the addition of heat and extra sugar, a liquid is apparently combustible above an alcohol content of 30 to 35% by volume [14] This is an interesting chain of thought to build a connection to the cocktail. But in our opinion there is another, more elegant way. So the missing ingredient is water. What is there to report about it?
Water
There is no need for a "burnt brandy" to reduce the alcohol content of the drink if water is used instead. So let's take a closer look at the use of water.
Richard Stoughton already suggests taking his elixir in "a dram of brandy", that is, a sip of brandy. He says nothing about dilution. [1-213] So was no water used? We believe that water was used very much and certainly in Richard Stoughton's time. Numerous sources speak of drinking one's cocktail in the morning. [16]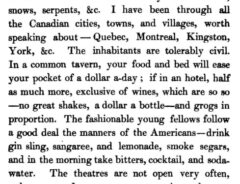 As an example, we also cite this source here: John Mactaggart travelled through Canada from 1826 to 1828 and reports: – "I have been through all the Canadian cities, towns, and villages, worth speaking about — Quebec, Montreal, Kingston, York, &c. The inhabitants are tolerably civil. In a common tavern, your food and bed will ease your pocket of a dollar a-day; if in an hotel, half as much more, exclusive of wines, which are so so — no great shakes, a dollar a bottle — and grogs in proportion. The fashionable young fellows follow a good deal the manners of the Americans — drink gin sling, sangaree, and lemonade, smoke segars, and in the morning take bitters, cocktail, and soda-water." [18-38]
Some people reading this will think with a smirk on their lips that drinking a cocktail in the morning to preserve one's health is a good excuse to consume strong alcohol early in the day. This is based on the idea that a cocktail used to be exactly how we think it should be understood today: lots of strong alcohol, some sugar, a dash of bitters and then stirred with ice, so basically something like a classic Whiskey Cocktail or Old-Fashioned Cocktail. But is this idea really true? Should we assume that the cocktail was originally prepared as we know it today? Is this correct?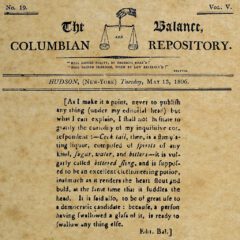 Practically everyone, when defining what a cocktail is, refers to the 1806 statement "Cock tail … is a stimulating liquor, composed of Spirits of any kind, sugar, water, and bitters", [8] Unfortunately, the article does not mention any quantities, and one came to the conclusion that this definition must in principle correspond to that of an Old-Fashioned Cocktail. However, there is no evidence for this. Moreover, we have to take into account that this is an American source, not an English one. As we will show later, the origin of the cocktail is in England, so we have to do our research there.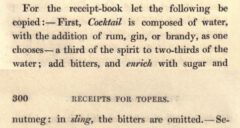 Let's forget about ice for a moment, because it came later as an ingredient in the cocktail. At first, people usually only used water. But how much was originally used? In this context, the travel description of Sir James Edward Alexander is interesting, who reports on his journey in 1831 in his book published in 1833. On page 299 we read his description of a cocktail: [1-228] [2]
For the receipt-book let the following be
copied: – First, Cocktail is composed of water,
with the addition of rum, gin, or brandy, as one
chooses – a third of the spirit to two-thirds of the
water; add bitters, and enrich with sugar and
nutmeg; in sling, the bitters are omitted.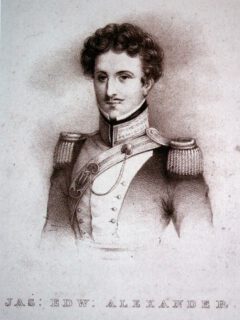 Now that is really interesting. The main ingredient is water, two thirds of it!
Of course, we now have to judge how this source is to be interpreted. We learn here that the cocktail, at least according to this source, is something quite different from an old-fashioned cocktail. We asked ourselves why so much water is used here. Is there a reference to the English origin of the cocktail? To be able to judge this, we have to look a little closer at what this would mean and what we would expect.
If we use a base spirit with an alcohol content of 40 vol%, this is reduced to only around 13.3 vol% in Alexander's Cocktail. With an overproof spirit with 57 vol%, 19 vol% remain. A vermouth as an example of a fortified wine today contains around 16 vol%, a dry sack between 15 vol% and 20.5 vol%. This shows that the cocktail, at least according to the understanding of Sir James Edward Alexander, was originally similar in its alcohol content to a (Royal) Purl. It is thus very much in the tradition of a tonic which was taken in the morning to strengthen one's health.
Of course, one could also argue that this recipe shows no reference to England and is simply a negligible exception, as it is stylistically much too far removed from the "original" cocktail. It is noticeable that this indication is quite young, as it dates back to 1833. We will go into more detail about other historical cocktail recipes in one of the following chapters and can deal with this question in more detail there. However, what speaks for the English reference, apart from what has already been written, is that the author is an Englishman and thus was familiar with English traditions and probably reproduced an English rather than an American influenced recipe.
One must also note in this context that the dilution of spirits was a common British practice. For example, in the Royal Navy in the 18th century, the daily rum ration was diluted with four times the amount of water. [15-39]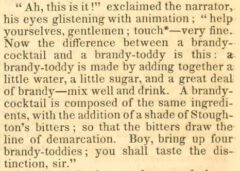 Nevertheless, there was an early view that a Cocktail should be prepared with little water. This is probably an American rather than a British view. According to this American view, a Toddy was also made with only a little water – although originally a lot of water also belonged in it. As proof, a travelogue from 1835 is cited here, in which the author reports on his stay in New Orleans. He also describes the Cocktail:"Now the difference between a brandy-cocktail and a brandy-toddy is this: a brandy-toddy is made by adding together a little water, a little sugar, and a great deal of brandy — mix well and drink. A brandy-cocktail is composed of the same ingredients, with the addition of a shade of Stoughton's bitters; so that the bitters draw the line of demarcation." [17-25]
Summary
We have thus shown that all the ingredients of a cocktail, namely spirit, bitters, sugar and water, were already used and combined in 18th century England, long before these ingredients were named as those of a cocktail in 1806.
Sources
David Wondrich: Imbibe! From Absinthe Cocktail to Whiskey Smash, A Salute in Stories and Drinks to "Professor" Jerry Thomas, Pioneer of the American Bar. 2. Auflage. ISBN 978-0-399-17261-8. New York, 2015, Seite 313-316.
James Edward Alexander: Transatlantic sketches, comprising visits to the most interesting scenes in North and South America, and the West Indies. Volume 2. London, Richard Bentley, 1833. Page 299-300. https://archive.org/stream/transatlanticske02alexrich#page/299/
https://de.wikipedia.org/wiki/Simon_Fraser,_11._Lord_Lovat: Simon Fraser, 11. Lord Lovat.
Alexander Mackenzie: The Celtic Magazine. Vol. X. Inverness. A. & W. Mackenzie, 1885. Page 414-415. https://archive.org/stream/celticmagazine05unkngoog#page/n423/mode/1up
Thomas Bayly Howell: A Complete Collection of State Trials and Proceedings for High Treason and Other Crimes and Misdemeanors From the Earliest Period to the Year 1783. Vol. XVIII. London,1816. Column 849. https://archive.org/stream/acompletecollec27howegoog#page/n443/mode/1up
Anonymus: Medical advice to seamen: with directions for a medicine chest. New London, Samuel Green, 1795. Page 10. https://archive.org/stream/2561016R.nlm.nih.gov/2561016R#page/n15/mode/1up/search/burnt
http://www.telegraph.co.uk/luxury/travel/1256/the-surprising-history-of-the-cocktail.html: The surprising history of the cocktail. By Jared Brown, 13. December 2012. Unfortunately, this article was no longer available at the Telegraph. However, it can also be found here: https://web.archive.org/web/20131013065914/http://www.telegraph.co.uk/luxury/travel/1256/the-surprising-history-of-the-cocktail.html
http://www.beeretseq.com/the-cocktails-origin-the-racecourse-the-ginger-part-i/: The Cocktail's Origin, The Racecourse, The Ginger, Part I. By Gary Gillman, 30. January 2017.
https://de.wikipedia.org/wiki/Datei:James_Edward_Alexander00.jpg: Lithograph of James Edward Alexander, 1827.
http://www.saveur.com/how-the-cocktail-got-its-name: Ancient Mystery Revealed! The Real History (Maybe) of How the Cocktail Got its Name. By David Wondrich, 14. January 2016.
https://de.wikipedia.org/wiki/Wilhelm_III._(Oranien): Wilhelm III. (Oranien).
Tristan Stephenson: The Curious Bartender's Gin Palace. ISBN 978-1-84975-701-0. London & New York, Ryland Peters & Small, 2016.
https://en.wikipedia.org/wiki/Old_Tom_Gin: Old Tom Gin.
https://www.gutefrage.net/frage/ab-wie-viel-volumenprozent-alkohol-brennen-alkoholische-getraenke-ungefaehr: Ab wie viel Volumenprozent Alkohol brennen alkoholische Getränke ungefähr?
David Wondrich: Punch. ISBN 978-0-399-53616-8. New York, Pedigree Book, 2010.
https://de.wikipedia.org/wiki/Cocktail: Cocktail..
https://archive.org/details/neworleansasifou00didi/page/24/mode/2up H. Didimus: New Orleans As I Found It. New York, Harper & Brothers, 1845.
https://archive.org/details/threeyearsincan02mactgoog/page/n60/mode/2up/search/"gin+sling"?q="gin+sling" John Mactaggart: Three years in Canada: an account of the actual state of the country in 1826-7-8. Comprehending its resources, productions, improvements, and capabilities; and including sketches of the state of society, advice to emigrants, &c. London, 1829.
George J. Kappeler: Modern American Drinks. How to Mix and Serve All Kinds of Cups and Drinks. New York, The Merriam Company, 1895.
explicit capitulum
*