Having explained why the punch is an Indian and not an English invention, we must now turn to the question of what the first recipes of a punch looked like. What do the old books tell us?
The recipes of the first one hundred years
It is now time to look at the individual recipes and descriptions of punch, particularly from the first one hundred years of records. We will then look at these statistically to paint a more accurate picture of what ingredients originally went into a punch. First of all, let's start with a chronological listing of the individual citations. We don't want to comment on them excessively, evaluate and compare them yet. They serve to give us an authentic overview of what was reported about punch. A lot has been written about the Punch, but few have really looked at the original sources.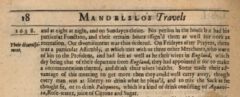 The Mecklenburg nobleman and traveller Johann Albrecht von Mandelsloh [4] reports about the year 1638 in a book published in London in 1662: "On Fridays after Prayers, there was a particular Assembly, at which met with us three other Merchants, who were of kin to the President, and had left as well as he their wives in England, which day being that of their departure from England, they had appointed it for to make a commemoration thereof, and drink their wives health. Some made their advantage of this meeting to get more then they could well carry away, though every man was at liberty to drink what he pleas'd, and to mix the Sack as he thought fit, or to drink Palepuntz, which is a kind of drink consisting of Aquavitae, Rose-water, juice of Citrons and Sugar." [7-18]
Jürgen Andersen began his journey on 24 April 1644, [24-1] arriving in Batavia on 3 November, [24-7] so that we may date his account to this year. In his description of his travels, published in 1669, he reports on the "drinks in Java in the city of Batavia": [24-9] "But if one drinks another drink in between / which they call palipuntz / the evil is somewhat controlled. One takes half brandy / half water / grated nutmeg / cinnamon powder / sugar / Chinese small limes stirred together / and drinks from it. Also, instead of wine soup, they have a dish / which they call matsack / which is made from 2 parts water / one part brandy / several eggs / cinnamon powder and sugar with bread in it / and is cooked as a wine soup / which gives inebriation."

– "Geträncke auf Iava in der Stadt Batavia": [24-9] "Wenn man aber ein ander Geträncke darzwischen trincket / so sie Palipuntz nennen / wird dem Ubel in etwas gesteuret. Man nimpt halb Brandwein / halb Wasser / geriebene Muscaten Nüsse / Cannel-Pulver / Zucker / Chinesische kleine Limonien durcheinander gerühret / und davon getruncken. Auch haben sie an stat der Weinsuppen ein Gerichte / so sie Matsack nennen / wird gemachet aus 2. theil Wasser / ein theil Brandwein / etliche Eyer / Cannel Pulver und Zucker mit Brodt drein / wird als eine Weinsuppe gekochet / gibt räusche." [24-10]

In 1647, Richard Ligon reports on various drinks of the island in his History of Barbados: -"Punch is a fourth sort, & of that I have drunke; it is made of water & sugar put together, which in tenne dayes standing will be very strong, and fit for labourers." [25-32]
In 1653, François La Boullaye-Le-Gouz wrote: "Bolleponge is an English word denoting a drink which the English have from India, and made of sugar, lemon juice, brandy, mace and toasted biscuits." [6-516]

– "Bolleponge est vn mot Anglois, qui signifie vne boisson dont les Anglois vient aux Indes faire de sucre, suc de limon, eau de vie, fleur de muscade, & biscuit rosty." [6-516]
1659 Johann Jacob Saar ended his fifteen years of war service in the East Indies. In 1662 he published his experiences and reports in the chapter "Description of the beautiful and large island of Ceylon": "Otherwise, not only is the drink made from the Clapper trees called siere / of which I will soon speak: but they have even more of these / as first of all the * massack, which is made in this way: Depending on whether they want a lot / or a little / they take four / five / six measures of siere, and when they have warmed it / they do two / three measures of arack, like brandy / into it / beat into a bowl twenty / thirty / forty / eggs / and beat it very small / and gradually put a little of the warm siere into the bowl / but stir it all the while / so that it doesn't run together / finally two / three / pieces of cinnamon / and nutmeg / grated finely / underneath / and pour it all together / o that it, drunk warm, not only has an excellent taste: but also satiates mightily / and fattens. For the other, vin perle, which is half water / half arack, is boiled together / with two / three / eggs beaten in / lemons pressed into it / sugar / cinnamon / and nutmeg flowers / made into a pleasant drink. For the third / † Palebunze titled, of half water / half brandy / thirty / forty / lemons / whose grains are spit out / and a little sugar thrown in / as not so pleasant to the taste: So also not to the health. … * Jürgen Andersen calls / pag. 10. the Massac, a dish instead of the wine soup / and also describes it like this: It is made of two parts of water / one part of brandy / some eggs / cinnamon powder / and sugar with bread in it / is cooked like a wine soup / and gives inebriation. … †  The drink is common throughout India. In Persia too. Herr von Mandelslo describes it / as he found it at Gamron / Lib.I. p. m. 25. It is strong brandy / citron juice / sugar / and rose water / mixed together / soon makes drunk / causes hot fever / and dysentery / that if one is not then well taken care of / falls down like flies / and dies. Jürgen Andersen / Lib. I. p. m. 19. also says: Take half brandy / half water / grated nutmegs / cinnamon powder / sugar / Chinese small lemons stirred together / and drink from it." [33-59] [33-60]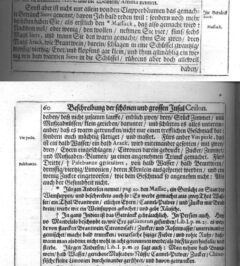 – "Beschreibung der schönen und grossen Insul Ceilon": "Sonst aber ist nicht nur allein von den Clapperbäumen das gemachte Getränck Siere genennt / davon Ich bald reden will: sondern noch mehr derselben haben Sie / als erstlich den * Massack, das also gemacht wird: Nachdem viel / oder wenig / den wollen / nehmen Sie vier / fünf / sechs Maas Siere, und wann Sie den warm gemacht / thun Sie zwey / drey Maas Arack, wie Brantwein / darein / schlagen in eine Schüssel zwantzig / dreyssig / viertzig / Eyer / und klopfens gar klein / und thun allmählig ein wenig von dem warmen Siere in die Schüssel / rührens aber doch alleweil dabey / daß nicht zusamm lauffe / endlich zwey / drey / Stück Zimmet / und Mußcadnüssen / klein gerieben / darunter / und schütten es alles untereinander / daß es warm getruncken / nicht nur einen trefflichen Geschmack hat: sondern auch mächtig sättiget / und mastet. Fürs ander Vin perle, das ist ein halb Wasser / ein halb Arack, wird miteinander gesotten / mit zwey / drey / Eyern eingeschlagen / Citronen darein gedruckt / Zucker / Zimmet / und Mußcaden-Blumen / zu einen angenehmen Tranck gemachet. Fürs Dritte / † Palebunze getituliret, von halb Wasser / halb Brantwein / dreyssig / viertzig / Limonien / deren Körnlein ausgespeyet werden / und ein wenig Zucker eingeworfen / wie dem Geschmack so angenehm nicht: Also auch der Gesundheit nicht. … * Jürgen Andersen nennet / pag. 10. den Massac, ein Gerücht an Statt der Weinsuppen / und beschreibets auch so: Es werde gemachet aus zwey Theil Wasser / ein Theil Brantwein / etlichen Eyern / Cannel-Pulver / und Zucker mit Brod drein / werde wie ein Weinsuppen gekochet / und gebe Räusche. … † In gantz Indien ist das Getränck gebräuchlich. In Persien auch. Herr vo Mandelslo beschreibt es / wie Ers zu Gamron gefunden / Lib. I. p. m. 25. es werde von starcken Brantwein / Citronensaft / Zucker / und Rosenwasser / untereinander gemischet / mache bald truncken / verursache hitzige Fieber / und rohte Ruhr / daß wann man alsdenn nicht wohl in acht genommen werde / als die Fliegen hinfalle / und sterbe. Jürgen Andersen / Lib. I. p. m. 19. sagt auch: Man nehme halb Brantwein / halb Wasser / geriebene Muscaden-Nüsse / Cannel-Pulver / Zucker / Chinesische kleine Limonien durcheinander gerühret / und davon getruncken." [33-59] [33-60]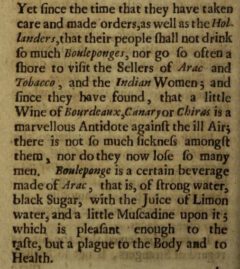 An English book about the English published in 1676 reports on a journey made by Monsieur Bernier in 1664: "Yet since the time that they have taken care and made orders, as well as the Hollanders, that their people shall not drink so much Bouleponges, nor go so often a shore to visit the Sellers of Arac and Tobacco, and the Indian Women; and since they have found, that a little Wine of Bordeaux, Canary or Chiras is a marvellous Antidote against the ill Air; there is not so much sickness amongst them, nor do they now lose so many men. Bouleponge is a certain beverage made of Arac, that is, of strong water, black sugar, with the Juice of Limon water, and a little Muscadine upon it; which is pleasant enough to the taste, but a plague to the Body and to Health." [8-154]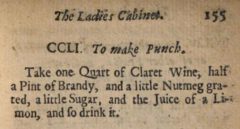 In 1670, this recipe appears in a book for ladies: "To make Punch. Take one Quart of Claret Wine, half a Pint of Brandy, and a little Nutmeg grated, little Sugar, and the Juice of a Limon, and so drink it." [12-155]
Also in 1670, a German book reports on the hospitality of the Indians: "Just as water is their drink for their daily needs, so Persian wine is drunk at the banquets of honour of wealthy people, of which a measure of six pounds is worth two rupees (or one Reichsthaler), for there is no country wine among them, as it is not cultivated in India. Besides this, one uses a brandy made from dates, sugar and palm wine: (a) likewise the drink Palepunz. Which, as Andersen suggests in the 7th chapter of the first book, is prepared from water and brandy (one taken as much as the other) with grated nutmeg, powdered cinnamon, sugar and small Chinese lemons, stirred together." [21-859]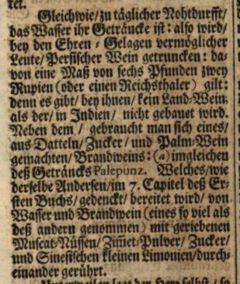 – "Gleichwie / zu täglicher Nothdurfft / das Wasser ihr Getränke ist: also wird / bey den Ehren-Gelagen vermöglicher Leute / Persischer Wein getruncken: davon eine Maß von sechs Pfunden zwey Rupien (oder einen Reichsthaler) gilt: denn es gibt / bey ihnen / kein Land-Wein; als der / in Indien / nicht gebauet wird. Neben dem / gebraucht man sich eines / aus Datteln / Zucker / und Palm-Wein gemachten / Brandweins: (a) imgleichen deß Geträncks Palepunz. Welches / wie derselbe Andersen / im 7. Capitel deß Ersten Buchs / gedenckt / bereitet wird / von Wasser und Brandwein (eines so viel als deß andern genommen) mit geriebenen Muscat-Nüssen / Zimmt-Pulver / Zucker / und Sinesischen kleinen Limonien / durcheinander gerühret." [21-859]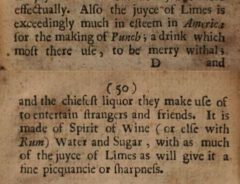 In 1672 it is written: "Also the juyce of Limes is exceedingly much n esteem in America for the making of Punch; a drink which most there use, to be merry withal, and the chiefest liquor they make use of to entertain strangers and friends. It is made of Spirit of Wine (or else with Rum) Water and Sugar, which as much of the juyce of Limes as will give it a fine picquancie or sharpness." [13-49] [13-50]

In 1698, John Fryer published his book about a journey that took place between 1672 and 1681. He has something to say about Goa: "At Nerule is made the best Arach or Nepa de Goa, with which the English on this Coast make that enervating Liquor called Paunch (which is Indostan for Five) from Five Ingredients; as the Physicians name their Composition Diapente; or from Four things, Diatesseron." [9-157]

In 1678 J. Wolidge writes: "Pale-puntz, here vulgarly known by the name of Punch; a Drink compounded of Brandy or Aqua Vitae, Juice of Lemons, Oranges, Sugar, and such like; very usual amongst those that frequent the Sea, where a Bowl of Punch is an usual Beverage." [10-10]
In 1684 Thomas Tryon reported on the West Indies: "In particular, there is a pernicions sort of Drink in great Reputation and Use amongst them, call'd, PUNCH […] . This sort of beloved Liquor is made of Brandy or Run, Sugar, Water, Lime-Iuice, and sometimes Ginger or Nutmegs: Now here are four or five Ingredients, all of as different Natures as Light is from Darkness, and all great Extreams in their kind, except only the Water." [11-111]

1685 In 1685, Henry Mundy reported that palopunzia was popular with the Indians and was prepared from lemon juice, rose water and arrack, although the Europeans also took brandy. Seamen and merchants in particular drink this mixture. [19-347] He alternatively uses the term palopuntz and punch. [19-334]

– "CElebris cinnus apud Indos est palopunzia; quam è Limonum sylvestrum succo, aquâ rosaceâ, & suâ uraquâ componunt, pro uraquâ Europaei spiritum vini substituunt, quibus est potus nauticus: cui nautae, & mercatores potissimùm indulgent." [19-347] – "In potu nautico dicto Palopuntz, nostris punch, succus limonum sylvestrium est basis, cui vim inebriantem arracke, seu spiritus vini afferunt, saccharum aciditatem mitigat." [19-334]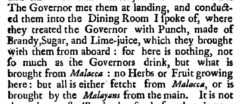 In 1688 William Dampier is on the island of Pulo Dinding on the coast of Malacca and reports: "The Governor met them at landing, and conducted them into the Dining Room I spoke of, where they treated the Governor with Punch, made of Brandy, Sugar, and Lime-juice, which they brought with them from aboard". [26-174]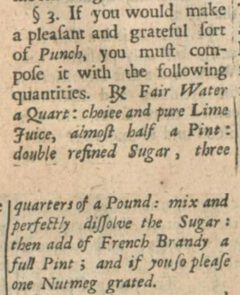 In 1694, a recipe with exact quantities was published:- "§3. If you would make a pleasant and grateful sort of Punch, you must compose it with the following quantities. … Fair Water a Quart: choiee and pure Lime Juice, almost half a Pint : double refined Sugar, three quarters of a Pound : mix and perfectly dissolve the Sugar : then add French Brandy a full Pint; and if you so please one Nutmeg grated." [14-759]

In 1707 Hans Sloane wrote about the West Indies: "The common fuddling Liquor of the more ordinary sort is Rum-Punch, to the composition of which goes Rum, Water, Lime-juice, Sugar, and a little Nutmeg scrap'd on the top of it." [15-xxviiii]

In 1708, John Oldmixon reported on the West Indies: "The more sanguine People entertain one another with Punch, made of the best Ingredients, Lemons, double refin'd Sugar, Spring-Water, and right French Brandy." [16-115]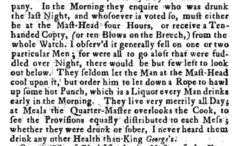 According to a privateer, punch was also drunk hot. 1724 is reported: "Upon his Arrival here, Captain Hawkins gave the Publick the following further Particulars, viz. […]" [17-151] "In the Morning they enquire who was drunk the last Night, and whosoever is voted so, must either be at the Mast-Head four Hours, or receive a Tenhanded Copty, (or ten Blows on the Breech,) from the whole Watch. … They seldom let the Man at the Mast-Head cool upon it, but order him to let down a Rope to hawl up some hot Punch, which is a Liquor every Man drinks early in the Morning. They live very merrily all Day; at Meals the Quarter-Master overlooks the Cook, to see the Provisions equally distributed to each Mess; whether they were drunk or sober, I never heard them drink any other Health than King George's." [17-153]

In 1713 one sets off on a journey around the world, reaches the Marianas in 1714 and writes: – "We stor'd our selves likewise with Oranges and Lemons, and buying a great Quantity of very good Limes, we made three or four Hogsheads of Limejuice; which was a great Relief to our Men in the hot Season, to mix with their Water; as for making Punch, we had some Arrack and some Sugar, but neither of them in any Quantity, so as to have much Punch made afore the Mast." [28-119]

In 1718, the following is written about England: "They also make a good apple wine and the English punch, which consists of French brandy, water, sugar and lemon juice, along with many other strong and tasty liquors." [20-361]
– "Man machet auch einen guten Aepffel-Wein und den Englischen Puntsch, welcher aus Frantz-Brandewein, Wasser, Zucker und Limonien-Safft bestehet, nebst vielen andern starcken und wohlschmackigten liquoribus." [20-361]

In 1722 Franz Ernst Brückmann writes that Palopuntz, Puncq, Punch or Puntsch is a drink of the sailors and is prepared with brandy, water, sugar and lemon juice. He refers to his entry for Palopuntz, in which he adds that rose water can be used instead of ordinary water, and that the Indians use arrack instead of brandy.[18-87] [18-75]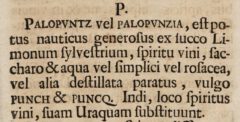 – "PUNCQ, PUNCH, PUNTSCH, est potus gentis nauticae fortis & vinosus, multarum virium, magnae efficaciae, valde inebrians, paratus ex spiritu vini, aqua, saccharo & mali citrei succo. vid. Palopuntz" [18-87] and "PALOPVNTZ vel PALOPVNZIA, est potus nauticus generosus es succo Limonum sylvestrium, spiritu vini, saccharo & aqua vel simlici vel rosacea, vel alia destillata paratus, vulgo PUNCH & PUNCQ. Indi, loco spiritus ini, suam Uraquam substituunt." [18-75]

A 1723 cookbook instructs: "To make Punch-Royal. TAKE three Pints of the best Brandy, as much Spring-water, a Pint or better of the best Lime-juice, a Pound of double refin'd Sugar. This Punch is better than weaker Punch, for it does not so easily afect the head, by reason of the large Quantity of Lime-juice more than common, and it is more grateful and comfortable to the Stomach." [27-#266]

In 1725, Nicholas Robinson wrote: "Punch is the last Liquor I shall take notice of. The Ingredients are Brandy, Rack, or Rum, Water warm or cold, Lemon-juice, Sugar, and sometimes a little Milk is added, which denotes it Milk-Punch. And, indeed, this is a Liquor not only very pleasant, but little differing in its Effects from Wine;" [23-216]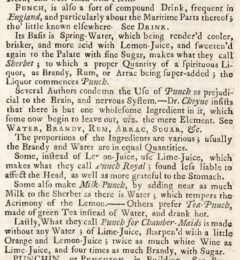 In 1728, Ephraim Chambers writes in his Cyclopaedia: "PUNCH, is also a sort of compound Drink, frequent in England, and particularly about the Maritime Parts thereof; tho' little known elsewhere. See DRINK. Its basis is Spring-Water, which being rener'd cooler, brisker, and more acid with Lemon-Juice, and sweeten'd again to the Palate with fine Sugar, makes what they call Sherbet; to which a proper Quantity of a spirituous Liquor, as Brandy, Rum, or Arrac being super-added; the Liquor commences Punch. Several Authors condemn the Use of Punch as a prejudicial to the Brain, and nervous System. – Dr. Cheyne insists that there is but one wholesome Ingredient in it, which some now begin to leave out, viz. the mere Element. See WATER, BRANDY, RUM, ARRAC, SUGAR &c. The proportions of the Ingredients are various; usually the Brandy and Water are in equal Quantities. Some, instead of Lemon-Juice, use Lime-Juice, which makes what they call Punch Royal; found less liable to affect the Head, as well as more grateful to the Stomach." [30-910]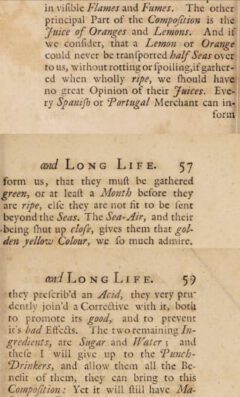 The attentive reader will have sat up and taken notice. Why, according to Dr George Cheyne, should only water be healthy and not lemon juice as well? The answer to this question becomes simple when one reads his treatise: "The other principal Part of the Composition is the Juice of Oranges and Lemons. And if we consider, that a Lemon or Orange could never be transported half Seas over to us, without rotting or spoiling, if gathered when wholly ripe, we should have no great Opinion of their Juices. Every Spanish or Portugal Merchant can inform us, that they must be gathered green, or at least a Month before they are ripe, else they are not fit to be sent beyond the Seas. The Sea-Air, and their being shut up close, gives them that golden yellow Colour, we so much amire. […] The two remaining Ingredients, are Sugar and Water; and these I will give up to the Punch-Drinkers, and allow them all the Benefit of them". [5-56] [5-57] [5-59]

In 1736, I. D. Kohl writes in a footnote: "Punch, Puncq, Puntsch, is a strong drink of the skippers / similar to a wine is prepared from brandy / water / lemon juice and sugar." [22-24]

– "Punch, Puncq, Puntsch, ist ein starckes Geträncke der Schiffer / einem Wein ähnlich wird aus Brantwein / Wasser / Citronen-Safft und Zucker bereitet." [22-24]
A book about the North American colonies published in 1737 reports: "Finally, there is some excellent beer from England, among which is beer as strong as the strongest wine. One also makes a very good, pleasant and healthy drink, which is called punch, which is made in the following way, namely, one takes two or three bottles of water, depending on whether one wants the drink to be strong or weak, a small bottle or bottle of brandy, the juice of 6 or 12 lemons, which one passes through a clean cloth or linen cloth, more or less a pound of sugar, according to how sweet one wants it to be, all this is mixed together, finally a little nutmeg is added to it, after which one has a very pleasant potion." [31-198]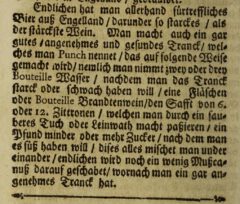 – "Endlichen hat man alerhand fürtreffliches Bier aus Engelland / darunter so starckes / als der stärckste Wein. Man macht auch ein gar gutes / angenehmes und gesundes Tranck / welches man Punch nennet / das auf folgende Weise gemacht wird / nemlich man nimmt zwey oder drey Bouteille Wasser / nachdem man das Tranck starck oder schwach haben will / eine Fläschen oder Bouteille Brandtenwein / den Safft von 6 oder 12 Zitronen / welchen man durch ein sauberes Tuch oder Leinwath macht paßieren / ein Pfund minder oder mehr Zucker / nach dem man es süß haben will / dises alles mischet man under einander / endlichen wird noch ein wenig Mußcatnuß darauf geschabet / wornach man ein gar angenehmes Tranck hat." [31-198]
What is a punch?
Before we start with a general analysis, let's take another look at the first four punch recipes. They are each special and different from each other in their own way, and it is worth taking a look.
The Punch in Particular
Johann Albrecht von Mandelsloh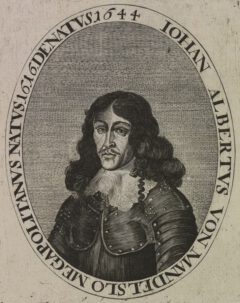 In 1638, Albrecht Mandelsloh reported, "Palepuntz …, a kind of drink consisting of aquavitae, rose water, lemon juice and sugar." [7-18]
What is extremely remarkable about this recipe is the addition of rose water. It seems puzzling to the uninitiated what this is doing in it. But with the explanations given in the previous chapters, it becomes clear that the punch he refers to is nothing but an alcoholic traditional Indian lemonade. Such a lemonade was also prepared in India with rose water.
Jürgen Andresen
In 1644 Jürgen Andresen observed: For "Palipuntz … One takes half brandy / half water / grated nutmeg / cannel powder / sugar / Chinese small lemons stirred together". [24-10]
What we find interesting about this is that it is apparently not so established that you can only use citrus juice in a punch. Obviously, the whole fruit can be used.
Another difference to the information given by Johann Albrecht von Mandelsloh is the use of spices. We had already explained that the punch goes back to traditional Indian lemonades. These are and always have been prepared with spices. Therefore, we postulate that originally spices belonged in a punch. If we look at the recipes that have been handed down, which we will evaluate statistically in the following, we see that punch was sometimes prepared with spices, sometimes without. The absence of spices may be explained by the fact that spices were expensive, especially far away from India. In a way, they were the gold of the 17th century, and wars were fought over them to secure a monopoly on them. For example, nutmeg could be sold in Europe for sixty thousand times its purchase price at its place of origin. [2] Therefore, when punch spread from the London docks to English society in the mid-17th century, [2] we should not be surprised if the spices were also left out.
Richard Ligon
In 1647 Richard Ligon prepares punch in a different way,  "it is made of water & sugar put together, which in tenne dayes standing will be very strong". [25-32]
This description suggests that it was by no means always clear to the English what was meant by a punch. In Barbados, it simply meant fermented sugar water. This may indicate that punch is not an English invention – for then every Englishman would certainly have known exactly what it was – but a drink adopted from India, which gained a certain popularity at the time, and it was not yet quite clear what it was.
François La Boullaye-Le-Gouz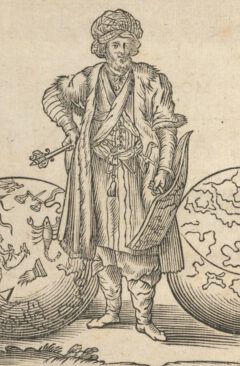 In 1653, François La Boullaye-Le-Gouz explains: "Bolleponge …,  made of sugar, lemon juice, brandy, mace and toasted biscuits." [6-516]
Why did François La Boullaye-Le-Gouz write in 1653 that punch was served with a "biscuit rosty", [6-516] and why did toasted biscuits float in Admiral Russell's punch fountain? First of all, what might these even be? It will probably be some kind of rusj or biscuit, and thinking of the naval environment, perhaps something like ship's biscuit.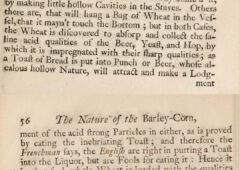 Interesting for clarifying the question of what purpose this toasted bread had is a book from 1737 that deals with brewing beer. The author describes in connection with the use of wheat in brewing: "Others there are, that will hang a Bag of Wheat in the Vessel, that it may not touch the Bottom; but, in both Cases, the Wheat is discovered to absorb and collect the saline acid Qualities of the Beer, Yeast, and Hop, by which it is impregnated with their sharp Qualities; as a Toast of Bread is put into Punch or Beer, whose alcalous hollow Nature will attract and make a Lodgment of the acid strong Particles in either, as is proved by eating the inebriating Toast; and therefore the Frenchman says, the English are right in putting a Toast into the Liquor, but are Fools for eating it." [32-55] [32-56]
This description confirms that the addition of a toasted bread to punch or beer was not so rare, but rather something typically English.
The punch in general
But now we come to the main topic of this part. What do we mean by a punch? To be able to answer this question, we have to take a statistical look at what has been handed down. First of all, the term does not always seem to have been clearly defined, otherwise Richard Ligon in Barbados would not have understood it to mean a fermented mixture of water and sugar. But this is an isolated case, which we should remember, but which is not decisive for the overall result and which we should exclude in the analysis.
For the analysis, we divide the first one hundred years into two sections, the first ranging from 1638 to 1699, the second from 1700 to 1737.
Brandy, citrus fruit and sugar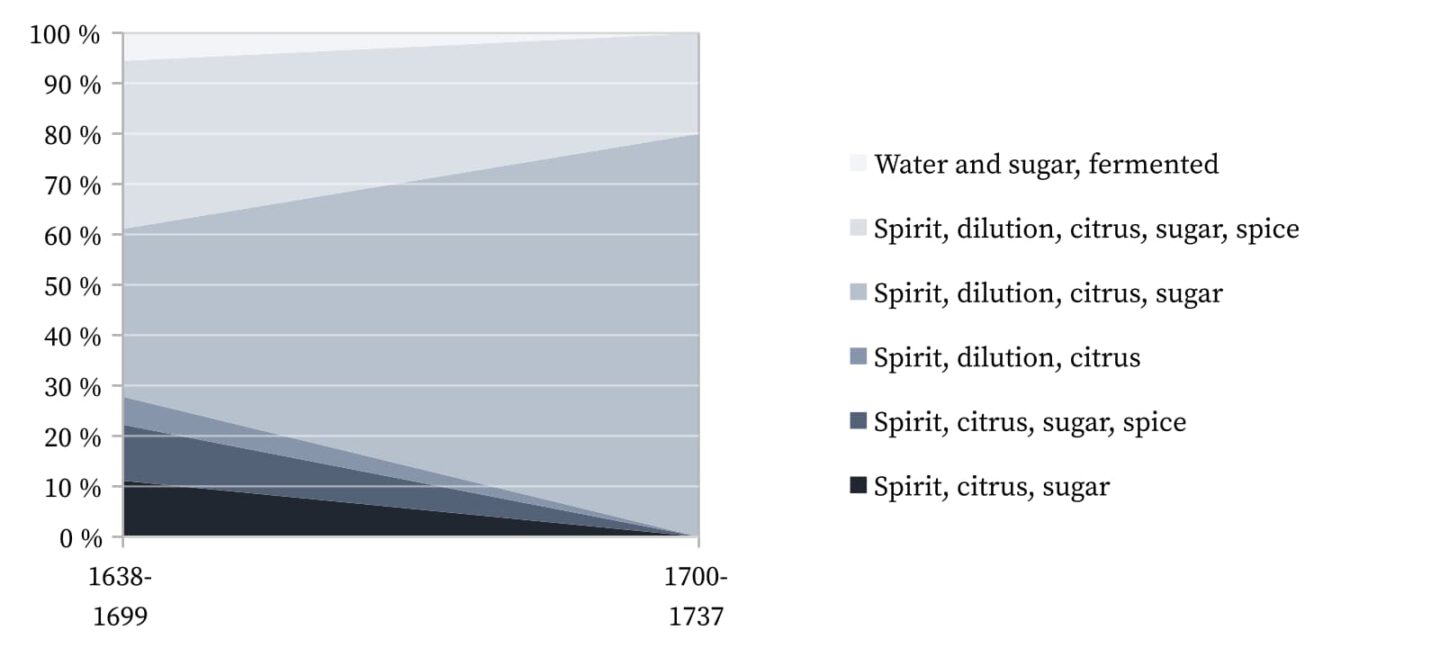 If we leave Richard Ligon's information aside for a moment, all recipes call for a brandy. They also call for a citrus fruit, although it may be left open which variety of lemon or lime was meant, because whatever was available was used anyway. Only one recipe also uses orange. The question of whether only the juice or the whole fruit was used, perhaps even prepared together with sugar as a sherbet, is a question that should not be answered here, and probably cannot be answered either, because initially this question simply did not arise during preparation, but only emerged over time as the punch recipe was perfected. All but one recipe also calls for the use of sugar.
The dilution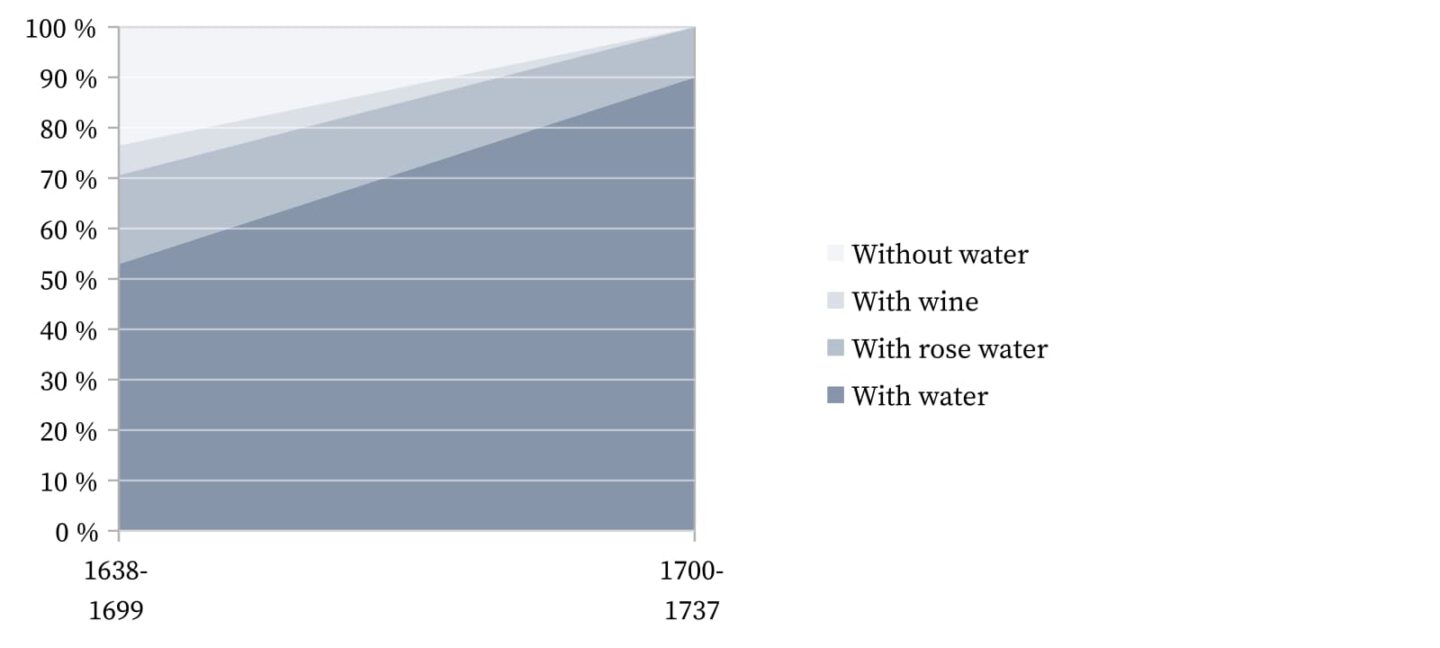 The dilution is more interesting, especially in the early phase it is not always mentioned. Presumably it was taken for granted and that is why the water was not mentioned. This is also supported by the fact that we know that Punch developed from lemonade. If we assume this to be the case, we can see that the alcohol content of the brandy was always reduced. As an alternative to water, however, rose water and even red wine were used. Punch was drunk hot or cold, whereby cold here does not mean that it was stirred on ice, because this was not available on the ships or in India. This fashion came later.
The spice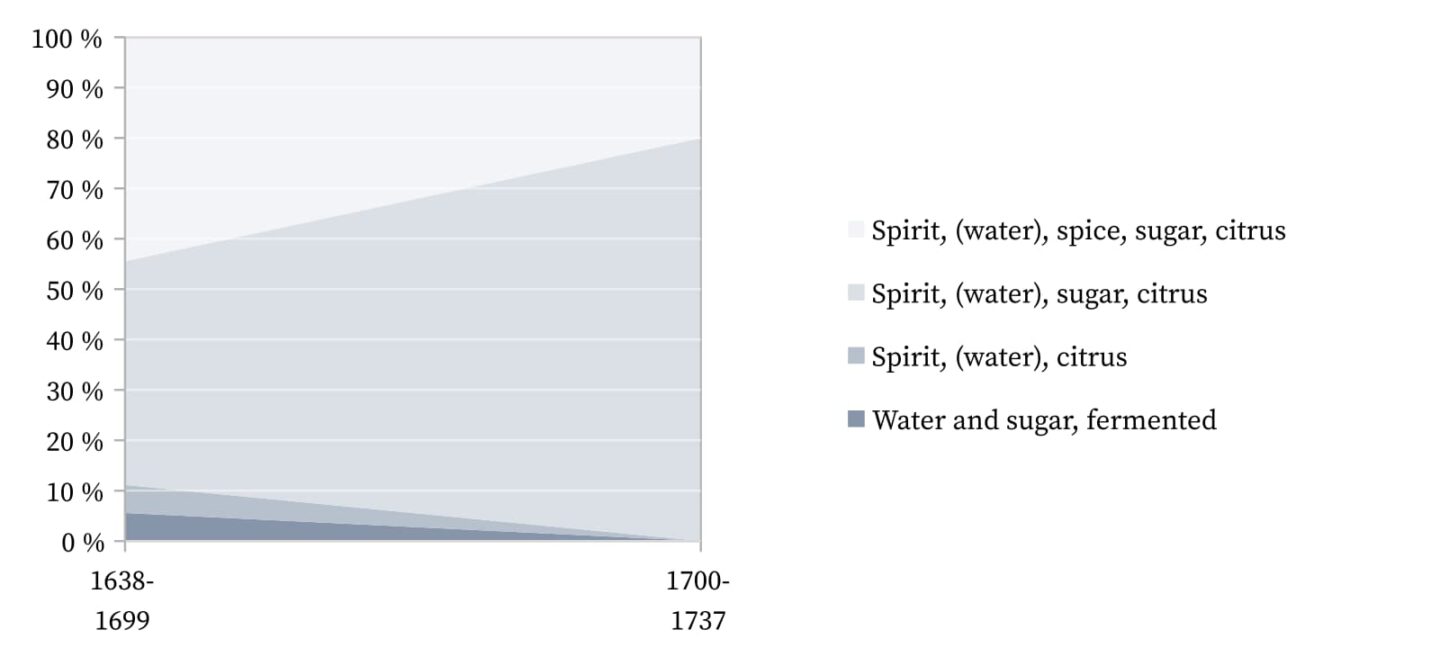 It is commonly said that spice is the fifth ingredient of the punch. In fact, spice was not mentioned in the majority of cases. Nutmeg was mainly mentioned as a spice, but cinnamon was also mentioned. Even ginger was an alternative. The reason for this – as already explained – was probably the poorer availability of the same or their costliness.
Summary
To summarise, it can be said that there were different types of punch. On the one hand, they were spiced or not, on the other hand, water or occasionally rose water or wine was used to dilute them.
On the one hand, there was what we call a spiced punch, a combination of brandy, water, citrus, sugar and spices, and on the other hand, the unseasoned version, the plain punch. Punch was drunk both cold and hot.
Sources
explicit capitulum
*