This is an extraordinarily important mixed drink for us, which challenges and inspires us in its aromatics time and again.
60 ml Trois Rivières 8 Rhum
15 ml Lustau Los Arcos Sherry
5 ml yellow Chartreuse

Preparation: stirred.
Alternatively and currently preferred by us:
60 ml Trois Rivières 8 Rhum
15 ml Lustau Amontillado Escuadrillo Sherry
5 ml yellow Chartreuse
The origin
This recipe was created on 6 January 2016. Two days earlier, we had received a delivery of eight-year-old rum from Trois Rivière. We had received it before, on 28 December, from Jan-Phillip Fricke at Le Lion in Hamburg, together with other rums, for tasting, because we had asked him about recommendable rums and rhums.
I tasted it again and thought that perhaps a sherry would go well with it. A little rounding was still needed and the yellow chartreuse showed best results. Just enough to act like a spice in the background without being perceived as too dominant.
The naming
The naming, however, proved to be difficult. No matter how creatively we thought, nothing fitted; we won't go into the various ideas and why we decided against them. We decided to let our associations play again the following weekend, but again without results.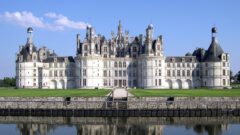 As chance would have it, we were watching the 2015 documentary "Pracht und Prunk an der Loire: Schloss Chambord" ("Splendour and pomp on the Loire: Chambord Castle") by Marc Jampolsky on ARTE. While we were thinking about the name of our mixed drink, we heard this text from the documentary: "Francis the First chose the salamander as his emblem, combined with the motto 'nutrisco et extinguo', meaning 'I feed on the good fire and put out the bad'. The salamander is a symbol of the virtues of good government and also stands for the king's eloquence. This eloquence is usually represented by water, but also by fire. The word is stronger than weapons. The salamander is considered the animal of concord. Some have a knot in their tail in the shape of a figure eight. This is the knot of concord. It is omnipresent. The castle could also be interpreted as the palace of concord." [1-1:25]
– "Franz der Erste hat den Salamander als Emblem gewählt, verbunden mit dem Wahlspruch 'nutrisco et extinguo', also sinngemäß 'ich nähre mich vom guten Feuer, und lösche das schlechte'. Der Salamander ist Sinnbild für die Tugenden der guten Regierung und steht außerdem für die Eloquenz des Königs. Diese Eloquenz wird meistens durch Wasser dargestellt, aber auch durch Feuer. Das Wort ist stärker als Waffen. Der Salamander gilt als Tier der Eintracht. Manch einer hat einen Knoten im Schwanz in Form einer Acht. Das ist der Knoten der Eintracht. Er ist allgegenwärtig. Das Schloß könnte auch als Palast der Eintracht interpretiert werden." [1-1:25]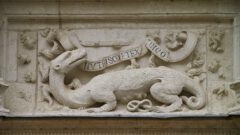 When we heard "I feed on the good fire, and put out the bad", it clicked, because WE are feeding on something good right now. Why not name the drink after him?
Francis  I.
Who was Francis I (in German Franz I.) anyway? He was born in 1494 and was crowned King of France in 1515. He was the first French king of the Renaissance, with a humanist education, and is considered an important Renaissance prince who generously supported the arts and sciences, so that there was a significant development of the arts in France during his reign. Through agents, he had many works by Italian artists such as Michelangelo, Titian and Raphael bought up and thus laid the actual foundation of the royal collection of paintings, which is now exhibited in the Louvre. He also commissioned numerous works and brought artists to France, including Leonardo da Vinci in 1516, who remained in France until his death in 1519. Francis I also issued the Edict of Villers-Cotterêts in 1539, with which French replaced Latin as the language of chancery. [2] [3]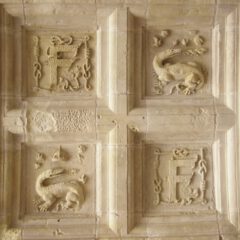 Everywhere in Chambord you will find the "F", the fusion of Francis and France, as well as the King's heraldic animal, the fire-breathing salamander surrounded by fire, Francis I's idea of the fire salamander living in and from the fire, figuratively meaning "living from the good fire and destroying the bad fires". [4]
Leonardo da Vinci wrote about the salamander "The salamander has no sensitive limbs and cares for no other food than fire, wherein it often renews its skin. Applies to virtue." [7-56] or also, "The salamander refines his skin in fire: – applies to virtue. He has no limbs capable of suffering, and cares for no other food than fire, and often renews his shell in it." [8-238]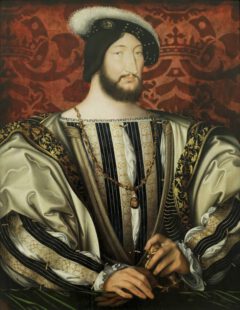 In 1519, Francis I and other princes applied to become Holy Roman Emperor, since Maximilian had died. However, the seven electors decided in favour of the Habsburg Charles V, because they had been bought with a higher sum with the help of the Fuggers. This developed into an enmity between Francis I and Charles V, and a conflict that lasted from 1516 to 1756, known as the Habsburg-French rivalry, in which the House of Habsburg and the Kingdom of France fought for supremacy in Europe. [2] [10]
Francis I's policy was aimed at not allowing himself to be encircled by Austria. [2] In Italy there were armed conflicts. To cut a long story short, on 24 February 1525 Francis I fell into Spanish captivity at the Battle of Pavia and was initially taken to a nearby Carthusian monastery, the Certosa di Pavia. On 19 June 1525 he arrived in Barcelona, and from 20 July 1525 he was in Madrid. To be released, he had to agree to the Peace of Madrid. He had to leave his two sons behind in Spain, and they were imprisoned in various Castilian fortresses until 1530; for once in Paris, Francis I revoked the Peace of Madrid on the grounds that he had acted under duress, and war with Charles V broke out again. [2] [12] [14] [15]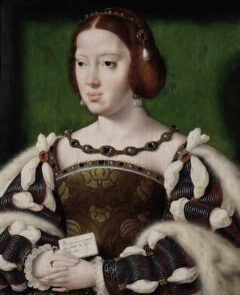 On 4 July 1530, Francis I married Eleanor of Castile, the favourite sister of Emperor Charles V, who was also Archduchess of Austria and Infanta of Spain, thus becoming Queen of France. This resulted in a Franco-Spanish alliance and Francis I's sons were set free. [2] [11]
The French colonial policy founded by Francis I was also important. He never recognised Spain's and Portugal's exclusive claim to the New World territories. That is why he sent Jacques Cartier to explore North America in 1534, thus laying the foundation for the later colony of New France. [2]
Parallels of the recipe with the King's biography
Isn't it interesting that elements of his own biography can obviously be found in this mixed drink, which was initially named after Francis I only by chance? Rhum Agricole symbolises his initiative in colonial policy, which ultimately led to the existence of French Caribbean islands and thus Rhum Agricole.
When he was captured, he was initially quartered in a Carthusian monastery, symbolised by the yellow Chartreuse. His marriage to Eleanor of Castile integrated the Spanish element into the French background – Spanish sherry plays a weighty role in the drink.
In Jerez de la Frontera, where sherry comes from, there was also a Charterhouse at that time – which also links sherry and Chartreuse. Incidentally, the Charterhouse in Jerez de la Frontera is of particular importance in the breeding of the Carthusian horse, a special type of "Andalusian" horse. [16] [17]
Although Carthusian monasteries were initially founded in remote areas, later they were also founded in cities, and these city Carthusian monasteries became centres of humanism. [13] Francis I was considered a humanist educated king, and so here arises another unifying element.
So we see that in the drink the French, the Spanish, and the Carthusian elements are united in accordance with the biography of Francis I.
What makes Franz I. so special?
Probably this mixed drink only works properly with our eight-year-old bottling. We have also tried other bottlings, VSOP or twelve-year-old, but with these the character of the drink changes. What distinguishes the eight-year-old bottling is its distinct mushroom aromas. At the same time, it still shows a certain fruitiness, and the cask aromas are not yet too pronounced. Against the background of this problem, we have long considered whether we should then write about this drink, because presumably the search for a replacement will be similarly difficult as with the Cus D'Amato.
But we decided on it anyway, because it is an extraordinarily important mixed drink for us. It is extraordinary. The aroma is unusual, unique, you have to drink it in to understand all the dimensions. It is complex and difficult to understand for the inexperienced drinker, much like Broyhan beer is. If you've never tasted it before, you're simply overwhelmed at first because you don't understand what you're drinking. When my dad drank this beer for the first time, he didn't know what to do with it, it overwhelmed him. It tasted different from any beer he had ever drunk. However, he went for it and after the first glass he enjoyed it because he started to drink into it and understand the complexity. Naturally, he ordered a second glass afterwards.
Franz I. may be similar. But it is a drink entirely in the sense in which Mario Kappes likes to build his recipes. He takes a base spirit and mixes it with other ingredients to emphasise the character of this base spirit and to bring out its special flavour profile. That's how it is here, too. Sherry and Chartreuse wonderfully lift the treasure hidden in this Rhum Agricole by clearly accentuating its flavours. Franz I. puts the rhum in the foreground, adding a radiance and fruitiness, accentuating its inherent flavours. The earthy, mushroomy aromatics some might want to call "musty"; we think "mushroomy" is more accurate.
The mixed drink is only suitable for the discerning, experienced drinker and is not compatible with the masses. It is for those who are looking for something new and unusual to develop their taste buds on. We would like to describe it as an extreme lighthouse mixed drink, far away from the "normal", well-known taste experiences. What do we mean by this? Let's imagine the totality of all mixed drinks as a spider's web stretched out, on which each recipe is assigned its place based on its aroma. The web is anchored to its surroundings at a few points. These places are occupied by the lighthouses. They are practically the extreme corner and anchor points of the aromatics, between which the entire range of the other drinks is spanned.
Sources