At first glance, this drink by Florian Drucks-Jacobsen from Liquid in Tübingen seems nothing special as a minimalist combination of Armagnac and Cocchi Americano. When tasting it, however, you quickly notice how perfectly the flavours support each other and a subtle complexity comes about. A drink that captured us immediately.
45 ml Baron Gaston Legrand Bas-Armagnac VSOP
45 ml Cocchi Americano
2 dashes Angostura bitters
Preparation: Stirred. Sprinkle with an orange zest.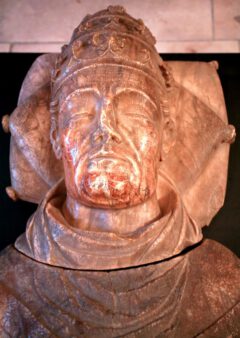 The drink is named after Pope Urban V. He was born as Guillaume de Grimoard at Château Grisac in France in 1310 and joined the Benedictine order. In 1362 he was elected Pope and resided in Avignon. He was the penultimate pope in Avignon and died there in 1370. As pope he rejected pomp, luxury and nepotism and took vigorous action against abuses in his environment and within the church. He brought about considerable reforms in the administration of justice and was regarded as an open-minded promoter of scholarship. His time as Pope was particularly marked by his efforts to restore the papacy in Italy and to suppress his rivals there. In 1367 he moved to Rome and thus, for the first time in 60 years, a pope set foot on Roman soil. Pressed by French cardinals, Urban V returned to Avignon in September 1370 and died shortly afterwards on 19 December. He was beatified in 1870. [1]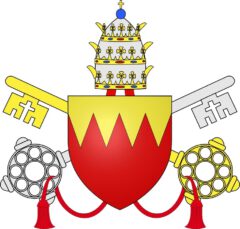 The drink was named after Urban V, because with the latter French and Italian elements came together, just as French Armagnac and Italian Cocchi Americano come together in the drink. As an interesting coincidence, we noticed that Urban's coat of arms also quasi reflects this minimalist composition of the drink. Gold for Cocchi, red for Armagnac. And Urban's commitment against pomp, towards the simple and minimalist, is also reflected in the recipe.
Recipes
2016 Florian prepared the drink for us during our visit to tübingen Liquid as follows: 40 ml Baron Gaston Legrand Bas-Armagnac VSOP, 40 ml Cocchi Americano, 5 dashes of Angostura bitters from small Japanese bitters bottles. Stirred and sprinkled with an orange zest.
Sources
explicit capitulum
*