There are not really many drinks that use crème de violette. That's a shame, because it can be an exquisite ingredient. The Purple Bird is another drink, alongside the Aviation Cocktail, that skilfully showcases violet flavours.
40 ml Rutte Gin
20 ml Rothman & Winter crème de violette
5 ml sugar syrup (2:1)
10 ml lemon juice
10 ml lime juice
15 ml egg white

Preparation: Shake, then shake without ice and double strain into a glass.
Alternatively and currently preferred by us:
40 ml Finsbury 47 Gin
20 ml Bigallet Crème de Violette
5 ml sugar syrup (2:1)
10 ml lemon juice
10 ml lime juice
15 ml egg white
The Purple Bird is the brainchild of Tom Lasher-Walker. It was created in 2012 in the Bramble Bar in Edinburgh. Tom says about it: "This was the first classically-inspired drink I came up with, and the last one I produced at Bramble before I left, which is still on their menu. I was bored of doing stiff drinks with these bitters of that vermouth and wanted to create something consumer friendly that would introduce people to gin drinks. This is essentially an attempt at a softer Aviation, although the drink DNA looks similar to an Eagles Dream; both drinks are featured in The Savoy Cocktail Book." [1]

Tom further informed us: "When I originally created the Purple Bird, the idea was to create something akin to the Aviation, but slightly less bracing and a little more approachable. As delicious as an aviation can be it can also be a fairly aggressive drink; when made properly it's fairly sour and pretty dry, and isn't always the best way to introduce people to gin drinks. The Purple Bird is essentially a modified and more approachable Aviation variation; a little more Creme Du violette and a little less gin, the addition of egg white to soften it up and then the use of two citruses for a little complexity. Simple syrup is used instead of maraschino to round off the edges and tie everything together. Similar to the a drink called the Eagles Dream, but with the addition of lime juice too." [2]

So, for the sake of completeness, let's mention the recipe of the Eagle's Dream cocktail from the Savoy Cocktail Book: 1 teaspoon of icing sugar, 1 egg white, the juice of a quarter of a lemon, 1/4 Crème Yvette, 3/4 gin.
We have slightly altered the original Purple Bird recipe by increasing the gin content from 30 ml to 40 ml. Since we use a 2:1 sugar syrup, we have virtually halved the amount of sugar syrup.
Against this background, the name is self-explanatory. The crème de violette gives the drink its purple colour, and as a reference to the Aviation Cocktail, it refers to other flying objects. Instead of an aeroplane, this time it is a bird.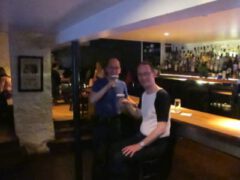 We have a very special connection with the Purple Bird, because when we visited the Bramble Bar in Edinburgh, we experienced cocktail culture for the first time on a level we had not previously imagined, and that ultimately led to the creation of this blog. During our holiday in the city, we visited the bar every day, and every day we also had a Purple Bird. It was the first drink where we asked for the recipe. We would like to take this opportunity to thank Robin Honhold once again for the wonderful days we spent in the bar. He was always an excellent host and competent bartender.
Sources
Shared by Tom Lasher-Walker on March 15, 2019.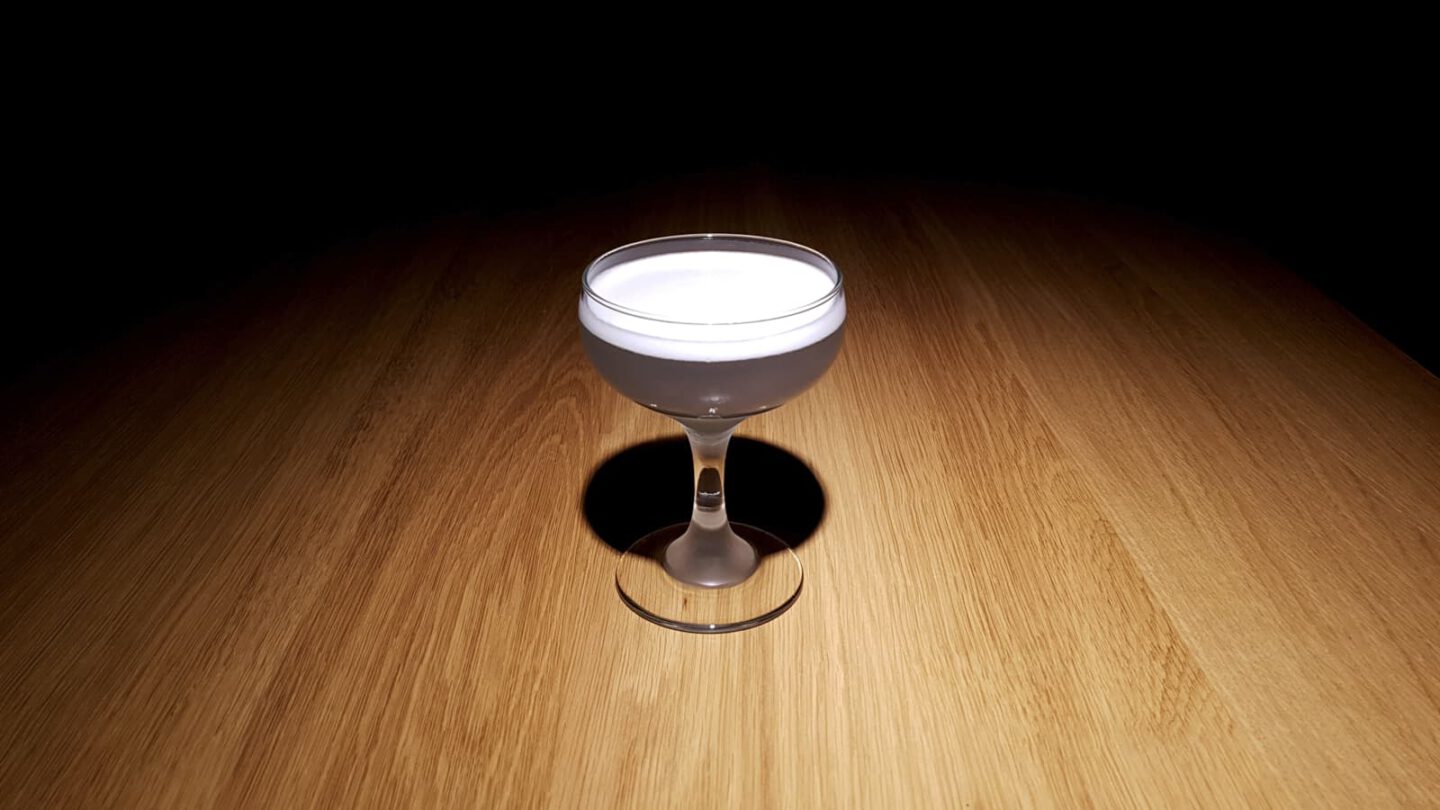 Recipes
https://www.diffordsguide.com/people/20871/bartender/tom-walker: 37.5 ml Gin; 25 ml Creme de Violet; 12.5 ml Lemon Juice; 12.5 ml Lime Juice; 12.5 ml Simple Syrup (1:1); Egg white.
2013 Bramble Bar: 37,5 ml Fifty Pounds Gin; 25 ml Giffard Crème de Violette; 12,5 ml Zuckersirup (1:1); 12,5 ml Zitronensaft; 12,5 ml Limettensaft; 15 ml Eiweiß.
2014 https://www.telegraph.co.uk/foodanddrink/seasonal-food-and-drink/10846880/Gin-cocktail-recipes-for-summer.html: 37.5ml gin; 25ml Crème de Violette; 12.5ml lemon juice; 1 egg white.
explicit capitulum
*