Jacques Straub created a compendium in 1913 with his book "Straub's Manual of Mixed Drinks" that gives us a good insight into the drinks of the time. But who was he and what do we know about him?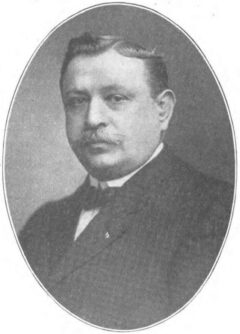 Jacques Straub was born in 1865 in Switzerland, in Herzogenbuchsee in the canton of Bern. His father ran a distillery and produced fruit brandies and liqueurs. As a teenager, he emigrated to the USA and became a sommelier at the famous "Pendennis Club" in Louisville, Kentucky. [7]
The "Pendennis Club" was founded in 1881 and was a private club. It took its name from William Makepeace Thackeray's novella "Pendennis". The first clubhouse was purchased in 1883 and was previously a stately home of the Belknap family. The Pendennis Club also became famous because the "Old Fashioned Cocktail" is said to have been named here for the first time. [2] [3] We will leave this claim uncommented here for the time being. There are numerous arguments against it, but we will deal with them separately in the article on the Old-Fashioned Cocktail.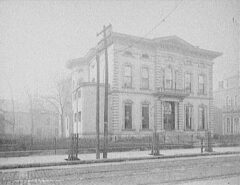 Jacques Straub remained at the Pendennis Club for 21 years and held a senior position there. [7]
When the "Blackstone Hotel" was built in Chicago between 1908 and 1910, [4] [7] Jacques Straub moved to Chicago to set up a wine cellar for the hotel. He remained employed there until his death in 1920. [7]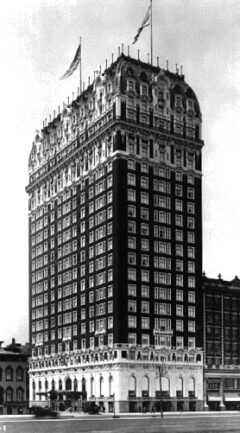 The "Blackstone Hotel" was considered one of the best luxury hotels in Chicago, where many prominent guests stayed. It was named after Timothy Blackstone, a respected Chicago businessman and politician. The hotel and the adjacent Blackstone Theatre were built on the site of his mansion. The builders were the sons of his former business partner, hotel magnate John Drake. After the stock market crash of 1929, the hotel went bankrupt, was closed and renovated and reopened in 1933. The hotel fell into disrepair and was therefore closed in 2000, extensively renovated and reopened in 2008 as the "Renaissance Blackstone Hotel". [4]
We could not find many sources reporting on Jacques Straub. In 1913 we can read about him in the "Oakland Tribune":
"…Jacques Straub, wine steward of the Blackstone hotel, who is, it is said, one of the foremost wine experts in the world. For thirty-two years Mr. Straub has studied wine and its making from every conceivable angle. Although thoroughly erperienced in all branches of club and hotel management. he has made wine and distillation a life study. He learned wine culture, distillation of liquors, and the science of developing sparkling wines by natural process at Neufchatel, Switzerland. His father operated a distillery in Switzerland when Jacques was a boy, making apple, cherry, plum, and other fruit brandies and cordials. When the son came to the United States he became Wine Steward and Club Manager of the famous Pendennis club of Louisville, Ky., an employment which he followed for twenty-one years." [1]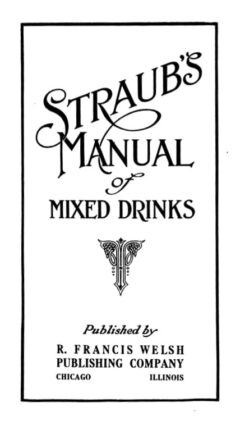 As a further source on his life story, his obituary from 1920 can be consulted:
"Jacques Straub died October 10 at his home in Chicago. Mr Straub was head of the wine department at The Blackstone until prohibition wiped out this department. He was known as one of the best posted wine men of the world. For many years before coming to Chicago he had charge of the Pendennis Club in Louisville. He was born in Switzerland and learned the business over there. Some years ago he wrote for The Hotel Monthly the book "Drinks" of The Hotel Monthly handbook series, which is a classic. Notwithstanding Mr. Straub's knowledge of wines and liquors, he never drank. He was a most abstemious man in this respect, but his judgment from smell and taste was always infallible" [1]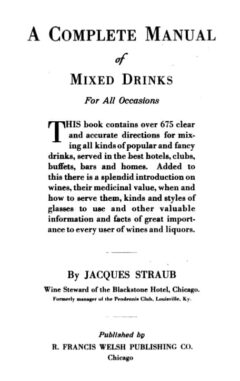 Jacques Straub wrote newspaper articles about wines and spirits and was considered an expert in these matters. He was not a bartender and, surprisingly, he did not even drink wine, let alone other spirits – at least that is what we are told. However, one might raise doubts about this. This reference appeared in his obituary at the time of Prohibition; in 1913 there is nothing about it in an Oakland Tribune report. So to what extent this statement is correct and one can become a respected expert in this profession – without drinking at least occasionally oneself – is for everyone to decide. You can consider it not very credible and be of the opinion that this statement is due to the times of prohibition. However, we would like to point out that even today there is at least one successful bartender who has been working behind the bar for years and does not drink, does not even sip drinks – we have met him personally. Therefore, it cannot be ruled out that Jacques Straub also renounced alcohol.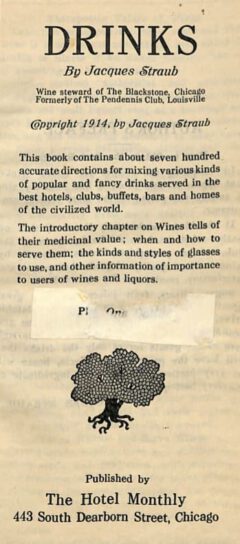 He published two books. In 1913, "Straub's Manual of Mixed Drinks" appeared, and in 1914 this book was slightly expanded under the title "Drinks". The latter was published a second time after his death, edited by his widow, Marie L. Straub. His books were designed as manuals for bartenders and fit in every pocket.
Although Straub was not a bartender, his books enjoyed a high reputation. Thus, in the "Drinks" edition that appeared after his death, we learn from Oscar Tschirky, the famous "Oscar of the Waldorf", that his friend Jacques Straub had given the world a classic with the book "Drinks", which would be appreciated for its description of the preparation of many delicious drinks, and that he was glad that this work would continue to be published by the widow Straub. He also predicted high sales figures for the book:
"My friend, Jacques Straub, who wrote the book Drinks, gave to the world a classic in wholesome temperance beverages. Where its precepts are followed there is true temperance. It is a book appreciated for the many delectable concoctions it tells how to make. I am glad to know that Mrs. Straub, his widow, will continue the publication of DRINKS, and bespeak for the book a large sale, especially outside the United States."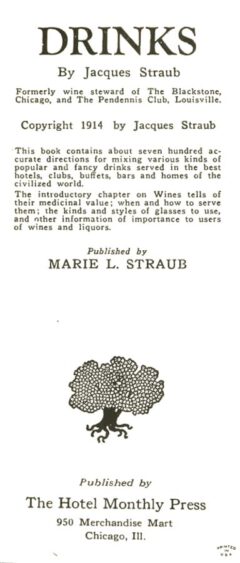 Straub's publications, with the almost 700 recipes they each contain, are, along with several other books, a valuable testimony to what drinks were prepared before Prohibition and how.
David Wondrich notes that there is some overlap with Albert Steven Crockett's "Old Waldorf Days", albeit often with slightly different names. Waldorf's "Waxum" is referred to as "Waxen", the "Tuxedo" as "Tusetto", the "Daiquiri" as "Daiguiri". Since Straub himself was not behind the bar, we may assume that he received the recipes for his book from friends, probably including Oscar Tschirky, who presumably let him take a look at the Waldorf's famous handwritten bar book. [7] Oscar Tschirky worked at the Waldorf as maître d'hôtel; he published cookbooks, and invented the "Waldorf salad". To be acquainted with him and to dine with him was considered a distinction. [5] The two must have known each other well, because David Wondrich reports that Jacques Straub was apparently accompanied by Oscar Tschirky when he immigrated to the USA. [7]
Sources
http://wiki.webtender.com/wiki/Jacques_Straub: Jacques Straub.
John E. Kleber (Herausgeber): The Encyclopedia of Louisville. University Press of Kentucky, 2015: Pendennis Club, page 696-697.
https://en.wikipedia.org/wiki/Pendennis_Club: Pendennis Club.
https://en.wikipedia.org/wiki/Renaissance_Blackstone_Hotel: Renaissance Blackstone Hotel.
https://de.wikipedia.org/wiki/Oscar_Tschirky: Oscar Tschirky.
https://commons.wikimedia.org/wiki/File:Blackstone1a-1912.png: Blackstone Hotel in Chicago, Illinois, USA, 1912.
David Wondrich: A Look at the Book. In: Jacques Straub: Drinks. Nachdruck durch Mud Puddle Books, Inc., New York, 2009. ISBN 978-1-60311-188-1.
https://en.wikipedia.org/wiki/File:Pendennis_club_c1906.jpg: The old Pendennis Club building in Louisville, Kentucky circa 1906.
explicit capitulum
*