We have used the wrong Calvados in the past. Whenever the old books spoke of it, we used Calvados V.S.O.P.. But not all Calvados is the same. In fact, one should use an unaged eau-de-vie.
The Calvados Pays d'Auge appellation was not created until 1942, and at that time there were no requirements for minimum barrel ageing periods; Calvados was generally drunk unaged. It was only in later times that the regulations were extended, so that finally an ageing in oak barrels of at least two years is prescribed. [1] But how did this come about? What is the history of Calvados? And what does it mean for us?
The production of apple wine is documented in Normandy as early as the eighth century. It is called cider there. [2-134] However, cider has been around for much longer. It was already consumed in ancient Greece, and also enjoyed by the Romans. [4-30]  In the Middle Ages, knowledge of distillation spread throughout Europe, and Normandy and Brittany began to distil cider. This was first mentioned in 1553, in records by Gilles de Gouberville, who reported that "Eau de Vie de Sydre" was distilled in Le Mesnilau-Val. [2-134] [3]
In 1588, the galleon El Calvador was wrecked on the Norman coast and its name was transferred to a previously unnamed reef, which has since been known as the "Plateau du Calvados". The name Calvados was later transferred to the whole area for unknown reasons and was probably adopted in the 17th century as the name for the eau de vie de cidre by the local apple growers. [2-134] [2-135] According to other information, this did not happen until around 1880. [3]
During the phylloxera plague in the second half of the 19th century, this eau de vie experienced a boom, as classic grape distillates could no longer be provided in the quantities needed. Until the beginning of the First World War, the fruit economy of Normandy grew. During the war, alcohol, which was essential for the war effort, was reserved for the industry, and also between 1918 and 1939 there was no improvement. During the German occupation, alcohol that did not have a protected designation of origin was confiscated. Calvados did not have this, and so Calvados was legally protected in 1942 under the auspices of the French Minister of Agriculture, Jaques Le Roy Ladurie, who came from Normandy. [2-135] [3]
What does this mean? Since "Calvados" used to be drunk unaged as a rule, unaged apple eau de vie should also be used in the old recipes, not barrel-aged. So much for the theory. We have tasted numerous old-time mixed drinks, including Angel's Face, Diki-Diki, Klondike Cocktail, Roulette Cocktail and Stone Fence, and practice confirms theory. It tastes better with an unaged apple eau de vie. You can go for a classic eau de vie de cidre from Normandy, as Christian Drouin has been producing one under the name "La Blanche" since 2003.
The same may also apply to American Applejack, as Robert Vermeire writes in his 1922 book "Cocktails": "In the U.S.A. Apple Jack Brandy is also called Jersey Lightning. In France they usually call it Calvados".
If you look at the origins of applejack, this conclusion is obvious because, as explained in our Stone Fence post, it was made by freezing cider in the winter. In summer, the spirit obtained in this way will have been used up without being stored in barrels for a long time.
Sources
https://www.calvados-drouin.com/de/product/49/la-blanche La Blanche by Christian Drouin.
Thomas Majhen: Die Barfibel. ISBN 978-3-8442-5233-0. Published 2012.
https://de.wikipedia.org/wiki/Calvados_(Getr%C3%A4nk) Calvados (Getränk).
David Wondrich & Noah Rothbaum: The Oxford companion to spirits & cocktails. ISBN 9780199311132. Oxford University Press, 2022.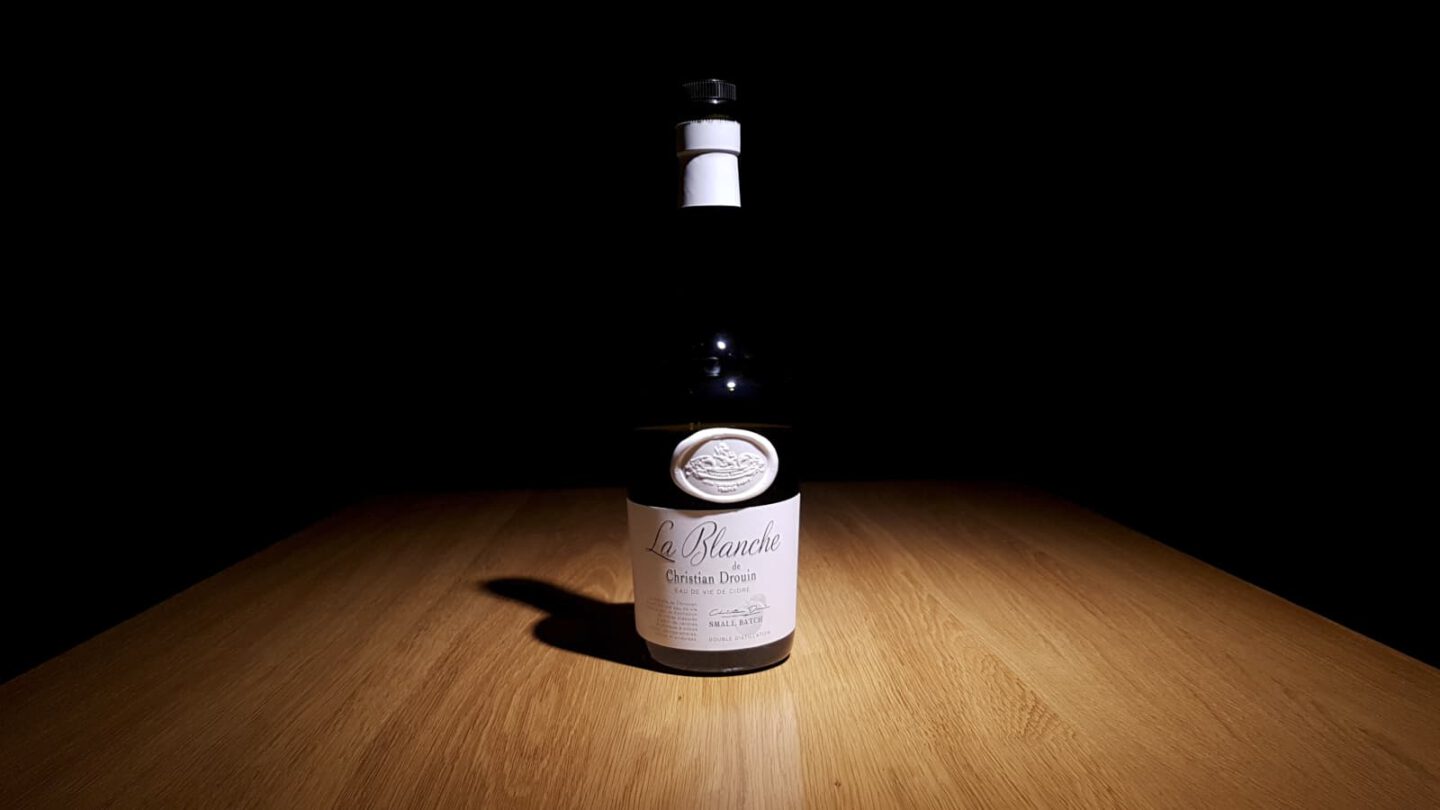 explicit capitulum
*