The B.F.G. is a relatively unknown drink that deserves to be made better known. Its herbal Drambuie notes harmonise wonderfully with strong Laphroaig flavours and spicy vermouth.
40 ml Drambuie
25 ml Antica Formula vermouth
10 ml Laphroaig Quarter Cask
2 dashes Dr. Adam Elmegirab's Boker's bitters
Garnish: lemon zest

Preparation: Stirred. Sprinkle with lemon zest.
Adam Elmegirab won the "Drambuie UK Cocktail Competition" with the B.F.G. in 2010. According to him, it is a variation of the Rusty Nail. The latter is made with Scotch and Drambuie, with the Scotch in the foreground. However, one could also interpret the B.F.G. as a variation of a "Sweet Fancy Rob Roy" (compare our comments on the Manhattan), in which the proportions of scotch and drambuie have been swapped as a "modern" flavouring. Adam Elmegirab shares this view in his book published in 2017. He describes his drink as a hybrid of Rob Roy (consisting of Scotch, vermouth and bitters) and a Rusty Nail (consisting of Scotch and Drambuie). [1]
However, a review of the historical recipes shows that the B.F.G. had predecessors. Although these are prepared with different proportions, they are very similar to the B.F.G. in their basic composition. In 1937, R. de Fleury published the "Johnnie of Skye", made from two parts each of Italian vermouth (martini) and Johnny Walker whisky, one part Drambuie and a dash of Angostura bitters. The "Braemer Cocktail" published by Harry Schraemli in 1966 also bears a certain resemblance. It consists of equal parts Drambuie, Scotch and dry vermouth with a lemon zest.
For the name, Adam Elmegirab states: "The name is a nod to the first recorded reference of a drink combining whisky and Drambuie, the B.I.F., from 1937, which was named for the British Industries Fair held annually in Birmingham from the 1920s until the mid-20th century. I created this drink for the 2010 Drambuie Cocktail Competition. I formulated it specifically with the lead judge in mind – Simon Difford, of beverage industry publication Difford's Guide, after reading an article where he'd been looking for the perfect whisky for the Rusty Nail. His choice? Laphroaig 10 year old." [1]
Sources
Dr. Adam Elmegirab: Book of Bitters. ISBN 978-1-909313-94-1. London & New York, Ryland Peters & Small Ltd, 2017. Page 140.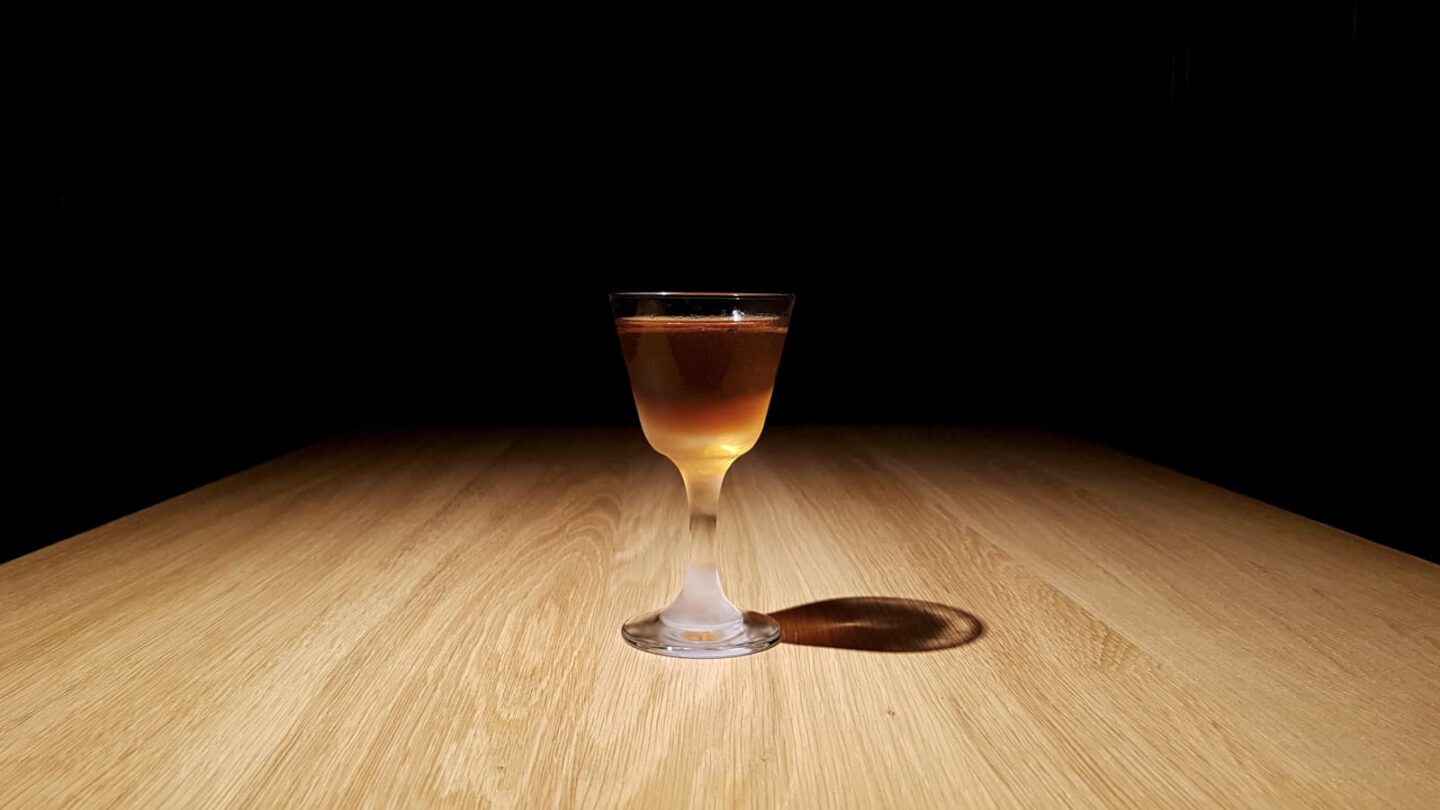 Historical recipes
1937 R. de Fleury: 1800 – And All That. Seite 68. Johnnie of Skye.
1/5 Drambuie
2/5 Martini Vermouth
2/5 Johnny Walker
Whisky
1 Dash Angostura
Bitters
Shake well and strain.
Decorate with a Cherry
and Lemon Peel.
1937 William J. Tarling: Café Royal Cocktail Book. B.I.F.
Invented by
F. Benniman
3/4 Vat 69.
1/4 Drambuie.
1 dash Angostura Bitters.
Shake.
1966 Harry Schraemli: Le roi du bar. Seite 50. Braemer Cocktail.

Mixingglass. 1/3 Drambuie, 1/3 Scotch
whisky, 1/3 vermouth sec. ZC. [Zitronenzeste]
2017 Dr. Adam Elmegirab: Book of Bitters. Seite 140. B.F.G. 45 ml Drambuie; 22,5 ml Cocchi vermouth di Torino; 10 ml Laphroaig 10 years old; 2 dashes Boker's bitters.
http://dradamsbitters.blogspot.de/p/original-bokers-recipes.html
Adam Elmegirab's winning Rusty Nail twist created for the 2010 Drambuie UK Cocktail Competition
40ml / 1.5oz Drambuie
25ml / 1oz Noilly Prat Rouge
10ml / 0.5oz Laphroaig 10 year old
2 Dashes Dr. Adam Elmegirab's Boker's Bitters
Method: Add all ingredients to mixing glass fill with cubed ice and stir for 15-20 seconds.
Glass: Two small cocktail glasses
Garnish: Fresh lemon zest
Ice: N/A
Notes: Short and spiritous
explicit capitulum
*