Joseph Santini is perhaps not known to many people today. Yet he is an important personality for the further development of the cocktail, because he invented the Brandy Crusta. What else do we know about him?
Passenger lists show that Joseph Santini emigrated from Trieste to the United States on a sailing ship, and it is also stated there that he originally came from Switzerland. This could be the reason why he spoke fluent French. Perhaps this information is not correct, however, because a newspaper article published at his death states that he was a Corsican. [5] This also explained his knowledge of French.
He was married to Margaretha Müller, who was born on 28 May 1828 in Gutenberg, Bavaria, and died in 1931. [1] [7] It is also written that the marriage took place before Joseph Santini's emigration, but this cannot be the case. For Joseph Santini was already working as a bartender in New Orleans in 1841, when he was about 23 years old. In 1841, however, his future wife Margaretha was only 13 years old. So they must have met in the United States. This is also supported by the date of birth of their first child, Gabriel Santini, on 4 July 1852.[7] In total, they had seven children. [1] [2] [7]
Joseph Santini was quite prominent and took a leading role in society. In 1861 he became commander of the "Garibaldi Guards". This was a group of Italians from New Orleans who organised themselves to fight for the Confederacy in the War of Secession. They were in the war the following year.[2]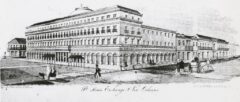 In 1841, Joseph Santini worked as head bartender for Philippe Alvarez. He was also Italian and ran an excellent bar at the St. Louis Hotel. [5] This hotel was originally built in 1838 and was known as the "St. Louis Exchange Hotel" or "City Exchange Hotel" and housed many important figures of the American South. [8] The four-story building was completely destroyed by fire in 1841 and quickly rebuilt. [8] For the next twenty years, the new hotel was a central meeting place for French New Orleans, hosting many lavish banquets and balls until 1862, when New Orleans was captured by Union troops. The hotel then became their military hospital. [8]
In 1842, Joseph Santini opened his own hotel on the nearby shores of Lake Pontchartrain. It was called the "Washington Hotel", and it also had a well-stocked bar. But he kept his position at the St. Louis Hotel at least until the end of 1843, because at that time it is written in the "Gazette de Baton Rouge" that he was working at the St. Louis Hotel. Perhaps, however, his own hotel was not doing well and he returned to the St. Louis. How long he stayed at the latter we do not know. [2] [5] However, he took over the management of the bar and restaurant around 1850. [4]
Joseph Santini opened his next business in February 1855. It was his own "Coffee House", which in those days meant a saloon or bar. He called it the "Jewel of the South" and it was located on Gravier Street, [1] [2] [4] [5] across from the famous St. Charles Hotel and became an icon, not only in New Orleans, but throughout the country. [5] We don't know how much time Joseph Santini himself spent behind the bar counter. Presumably, for the most part, it was not he but his head bartender who stood behind the bar. This was first Joseph Stella, then George Ittmann, also spelled Ittman. [5]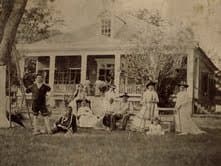 In December 1867, Joseph Santini bought a house and land in Biloxi, [1] which lies about 150 kilometres west of New Orleans on the coast of the Gulf of Mexico. Nearby, it must have been about 5 kilometres, the first permanent settlement of French Louisiana was founded in 1699, in the so-called "Old Biloxi", at "Fort Maurepas", and around 1720 the administrative seat of Louisiana was moved from there to nearby Biloxi. So it was a settlement steeped in history, easily accessible from New Orleans, even from the water, and they built their summer homes there. [11] Joseph Santini bought a large country house there for $8,000. [1] [2] Located at 964 Beach Boulevard, it was built in 1828 by wealthy New Orleans merchant John Blight Byrne. It remained in the family until 1972. [13]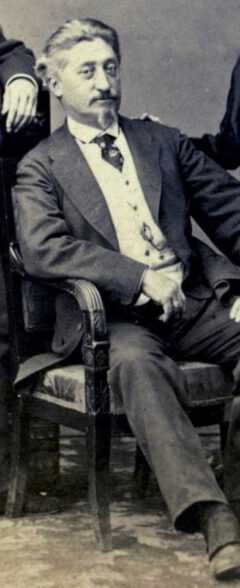 Joseph Santini handed over his "Jewel of the South" to his head bartender George Ittmann in 1869. [1] [2] [5] In "The Daily Picayune" of 24 January 1869 on page 4, Joseph Santini informs his guests that his successor "will keep the old saloon in splendid style, and with the best liquors and wines, so as to respond to the old reputation of this establishment". [1] David Wondrich says that the best cognac in New Orleans was obtained there. [2] Joseph Santini did not retire completely, however, as he ran a retail and wholesale liquor business after handing over his "Jewel of the South". [5]
Joseph Santini also seems to have been active in the tobacco trade. We read in the Opelousas Courier on 2 April 1868 that a box of the famous "Red Crook Smoking" tobacco had been received from Joseph Santini's cigar shop, located on the corner of Gravier Street and Carondelet Street. [15]
Obviously, Joseph Santini must have been in the bar business since 1836. At any rate, this is suggested by David Wondrich's statement, because the latter writes that the former had given up the "Jewel of the South" after 33 years in the bar business. [2] Unfortunately, we have not found any further details. The information also seems to be somewhat contradictory. David Wondrich also writes that Joseph Santini began his career at the St. Louis Hotel. [2] However, this was only built in 1838, not 1836.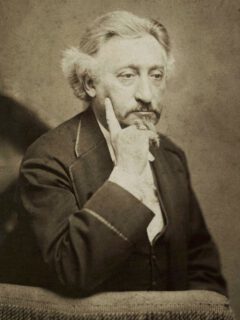 In the 1850s, Joseph Santini must have developed the Brandy Crusta. However, we do not know whether this happened at the "St. Louis Exchange Hotel" or at the "Jewel of the South". [4] We will report on what makes this so significant in a separate post about the Brandy Crusta. This drink was made famous beyond the borders of New Orleans by Jerry Thomas in 1862, but Joseph Santini did not need this support to be a successful businessman. In fact, he was far more successful than Jerry Thomas, investing his money wisely and becoming quite wealthy. [2] [5]
This gave him the necessary means to be able to work charitably. He was devoted to Freemasonry and philanthropy for most of his life. For this he was celebrated and renowned. [2] [5] He not only gave his children an excellent education, but also supported other students in the schools his children attended. [1]
In 1873, Joseph Santini went on a trip to Europe, as he often did, [2] and died on 11 August 1874 in Saint Christian, in the French department of Basses-Pyrenees. He was there travelling with his daughter Marietta, who was studying music in Europe. His body did not reach New Orleans until mid-October 1874, and his funeral took place on 18 October 1874, in "St. Louis Cemetery No. 3." [1] [5] [7] We have also read that he died in northern Italy, [2] but this is probably misinformation.

Sources
http://biloxihistoricalsociety.org/santini-family: Santini Family.
David Wondrich: The Great Santini. Imbibe, may/june 2012, page 24.
http://www.garnishblog.com/2015/05/brandy-crusta.html: Brandy Crusta. 13. May 2015.
David Wondrich: Imbibe! From Absinthe Cocktail to Whiskey Smash, A Salute in Stories and Drinks to "Professor" Jerry Thomas, Pioneer of the American Bar. 2. Auflage. ISBN 978-0-399-17261-8. New York, 2015, page 313-316.
https://www.eater.com/drinks/2015/5/6/8559047/five-unheralded-pioneers-of-the-american-bar: Five Unheralded Pioneers of the American Bar Who Pre-Date "Professor" Jerry Thomas. Von David Wondrich, 6. May 2015.
http://www.diedurstigeseele.de/joseph-santini-der-erfinder-des-brandy-crusta/ Joseph Santini – der Erfinder des Brandy Crusta. By Ardi, 12. May 2015.
http://biloxihistoricalsociety.org/sites/default/files/u4/SantiniFamilyRecord-p1-resize.jpg: Family Record.
https://en.wikipedia.org/wiki/St._Louis_Hotel: St. Louis Hotel.
http://www.hnoc.org/vcs/property_info.php?lot=18461: St. Louis Exchange. New Orleans (621 St. Louis, St. Louis Hotel). Date: 1840s-1850s? Negative no. 3202, lent by Louisiana State Museum. 2-041-035.
https://en.wikipedia.org/wiki/Biloxi,_Mississippi: Biloxi, Mississippi.
The photos were kindly provided by Cherryl Charming (https://en.wikipedia.org/wiki/Cheryl_Charming); she had received them from descendants of Joseph Santini.
James Gaffney: Day Trips From New Orleans. Getaways less than two hours away. Zweite Auflage. ISBN 1542-5169. The Globe Pequot Press, 2005. https://books.google.de/books?id=FXDq_p83VBsC&pg=PA86&lpg=PA86&dq=%22joseph+santini%22+biloxi&source=bl&ots=J4fVKfAZS6&sig=CZP18rupsCVuZfQpYeoHs8rPSNg&hl=de&sa=X&ved=0ahUKEwjy8ayY5cLUAhVDXhQKHUDoCkoQ6AEISTAD#v=onepage&q=%22joseph%20santini%22%20biloxi&f=false
http://biloxihistoricalsociety.org/sites/default/files/u4/Santini%20House%20and%20family.jpg. Santini house and family. Explanations at http://biloxihistoricalsociety.org/santini-family.
http://chroniclingamerica.loc.gov/lccn/sn83026389/1868-04-25/ed-2/seq-2/#date1=1789&sort=date&date2=1924&words=Joseph+Santini&searchType=basic&sequence=0&index=9&state=&rows=20&proxtext=%22joseph+Santini%22&y=0&x=0&dateFilterType=yearRange&page=1: Delicious Smoking Tobacco. In: The Opelousas Courier, 25. April 1868, page 2.
explicit capitulum
*