A Collins can certainly also be considered a lemonade. Reason enough to take a look at lemonade and its status at the beginning of the 19th century.
Lemonade
After we have dealt with soda water, a short post on lemonade should be inserted at this point before we deal with the Garrick Club's Gin Punch. Since this, like the Collins that evolved from it, contains soda water, sugar and lemon juice, which in principle corresponds to a lemonade, one could consider the lemonade, along with the punch, as the true origin. Let's start our considerations with lemonade powder and sparkling lemonade before we look at the true origin of lemonade in the next post.

The oldest English reference to lemonade is said to date from 1663. In "The Parson's Wedding" it says: "make some lemonade, and send it by the boy to my chamber;" [1-7] [2-423]
The lemonade seems to have come to England from Italy via France, so it is said, and was made from freshly squeezed lemons, sweetened with sugar or honey, and diluted with water. [1-7]
Lemonade powder
The availability of fresh lemons was certainly a problem, because they were not always available. But there was a solution. A French publication of 1783 wrote: "Lemonade powder, diuretic & appetising, very refreshing. Put an ounce of this powder in a pint of water, whisk the whole together, and the lemonade is made." [10-39]

– "Limonade en poudre, diurétique & apéritive, très – rafraîchissante. On met une once de cette poudre dans une chopine d'eau, on bat le tout ensemble , & la limonade est faite." [10-39]
As early as 1776, another French book also wrote about lemonade powder:  "LEMONADE IN POWDER FORM. Sailors, & those who make long sea voyages, are, as it happens, exposed to the danger of being attacked by scurvy: Acids are the most powerful protective agents against this disease: the vegetable kingdom furnishes several salutary acids, but when reduced to syrup they are liable to fermentation. Consideration has been given to making a powdered lemonade which, sealed in bottles, can be transported without suffering the slightest change. Sailors who have sailed around the world owe the safety of their crews to the use of this precious powder. People who live on the land and have no lemons within reach in the heat of summer can prepare this powdered lemonade themselves, the process for which is as follows. It consists in taking three gros [about 12 grams [14]] Salt of Oxalic Acid (foreign salt which comes to us through commerce, & of which we have spoken in the word SEL ESSENTIEL D'OSEIL), one pound of sugar. Crush the salt of oxalic acid to a fine powder, & mix it with powdered sugar; to this mixture add eight drops of essential oil of lemon, which gives the mixture the smell & taste of lemonade; bottle it, where it keeps very well. To use it, pour an ounce of this powder into a pint of water; shake the mixture, the salts dissolve, the water becomes cloudy, has the appearance of lemonade, and is a little like it. But we have found that the essential oil which dominates it gives it an unpleasant pungency, so that this drink seems to us more like the dissolution of the salt of oxalic acid than a true lemonade of lemon juice. Besides, this secondary liquid will always be of great use by the ease with which it can be kept, and by the properties it has against kidney stone. The squeezed juice of lemons, mixed with sugar, forms a syrup, which, though less durable, makes a beverage that is a true lemonade, especially when no essential oil is included. See the word INVENTIONS NOUVELLES , letter L, LIMONADE SECHE." [11-494] [11-495]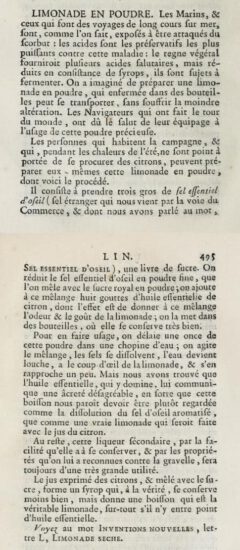 – "LIMONADE EN POUDRE. Les Marins, & ceux qui font des voyages de long cours sur mer, sont, comme l'on fait, exposés à être attaqués du scorbut: les acides sont les préservatifs les plus puissants contre cette maladie: le regne végétal fourniroit plusieurs acides salutaires, mais réduits en consiftance de syrops, ils sont suiets à fermenter. On a imaginé de préparer une limonade en poudre, qui enfermée dans des bouteilles peut se transporter, sans souffrir la moindre altération. Les Navigateurs qui ont fait le tour du monde, ont dû lè salut de leur équipage à l'usage de cette poudre précieuse. Les personnes qui habitent la campagne, & qui, pendant les chaleurs de l'été, ne sont point à portée de se procurer des citrons, peuvent préparer eux mêmes cette limonade en poudre, dont voici le procédé. Il consiste à prendre trois gros de sel essentiel d'oseil (sel étranger qui nous vient par la voie du Commerce, & dont nous avons parlé au mot, SEL ESSENTIEL D'OSEIL), une livre de sucre. On réduit le sel essentiel d'oseil en poudre fine, que l'on mêle avec le sucre royal en poudre; on ajoute à ce mêlange huit gouttes d'huile essentielle de citron, dont l'effet est de donner à ce mêlange l'odeur & le goût de la limonade; on la met dans des bouteilles, où elle se conserve très bien. Pour en faire usage, on délaie une once de cette poudre dans une chopine d'eau; on agite le mêlange, les sels se dissolvent, l'eau devient louche, a le coup-d'œil de la limonade, & s'en rapproche un peu. Mais nous avons trouvé que l'huile essentielle, qui y domine, lui communique une âcreté désagréable, en sorte que cette boisson nous paroît devoir être plutôt regardée comme la dissolution du fel d'oseil aromatisé, que comme une vraie limonade qui seroit faite avec le jus du citron. Au reste, cette liqueur sécondaire, par la facilité qu'elle a à fe conserver, & par les propriétés qu'on lui a reconnues contre la gravelle, sera toujours d'une très grande utilité. Le jus exprimé des citrons, & mêlé avec le sucre, forme un syrop qui, à la vérité, se conserve moins bien, mais donne une boisson qui est la véritable limonade, sur-tout s'il n'y entre point d'huile essentielle. Voyez au mot INVENTIONS NOUVELLES , lettre L, LIMONADE SECHE." [11-494] [11-495]
A chemistry book of 1798 enlightens us as to what is meant by "sel essentiel d'oseil"; it describes it as "oxalate acidule de potasse", as "acid oxalate of potash". [13-14] We have translated it in the text quoted above as "salt of oxalic acid". – The salts of oxalic acid are called oxalates. Oxalic acid was discovered in 1769 by Johann Christian Wiegleb as a potassium salt. In 1776, it was produced in larger quantities by oxidising sugar with nitric acid. It was first produced artificially in 1824. [12]

The reference to the "NEW INVENTIONS" is also interesting. It says: "Dry lemonade as good as if the lemon had just been squeezed, & which keeps. Belleville, Limonadier, rue du petit Carreau, with the arms of France: 1763." [11-410]
– "Limonade seche, aussi bonne que si le citron venoit d'être presse, & qui se conserve. Belleville, Limonadier, rue du petit Carreau, aux Armes de France: 1763." [11-410]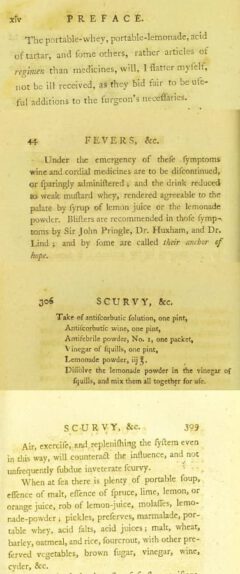 So there was already lemonade powder in France in 1763.
Lemonade powder was also known in England. A book published in London in 1794 speaks of "portable lemonade" [5-xiv] and "lemonade powder" [5-44] [5-306] [5-309] die Rede, also von "portabler Limonade" und "Limonaden-Pulver" . It describes how to thicken lemon or orange juice to make it more durable. Among other things, it says: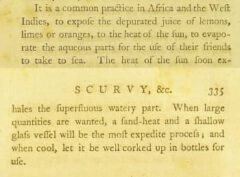 "It is a common practice in Africa and the West Indies, to expose the depurated juice of lemons, limes or oranges, to the heat of the sun, to evaporate the aqueous parts for the use of their friends to take to sea. The heat of the sun soon exhales the superfluous watery part." [5-334] [5-335]
But there were different types of the concentrate. In the following it is said namely: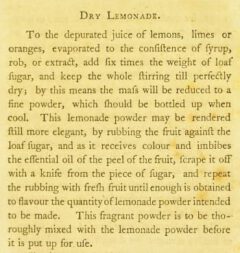 "DRY LEMONADE. To the depurated juice of lemons, limes or oranges, evaporated to the consistence of syrup, rob, or extract, add six times the weight of loaf sugar, and keep the whole stirring till perfectly dry; by this means the mass will be reduced to a fine powder, which should be bottled up when cool. This lemonade powder may be rendered still more elegant, by rubbing the fruit against the loaf sugar, and as it receives colour and imbibes the essential oil of the peel of the fruit, scrape it off with a knife from the piece of sugar, and repeat the rubbing with fresh fruit until enough is obtained to flavour the quantity of lemonade powder intended to be made. This fragant powder is to be thoroughly mixed with the lemonade powder before it is put up for use." [5-335]
An alternative method is then described: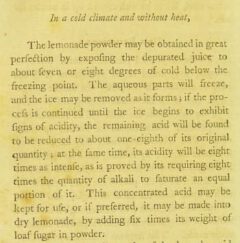 "In a cold climate and without heat, The lemonade powder may be obtained in great perfection by exposing the depurated juice to about seven or eight degrees of cold below the freezing point. The aqueous parts will freeze, and the ice may be removed as it forms; if the process is continued until the ice begins to exhibit signs of acidity, the remaining acid will be found to be reduced to about one-eighth of its original quantity; at the same time, its acidity will be eigth times as intense, … This concentrated acid may be kept for use, or if preferred, it may be made into dry lemonade, by adding six times its weight of loaf sugar in powder." [5-336]
A reference to the fact that lemonade can also be made with citric acid instead of fresh lemon juice can be found, for example, in an article from 1801. [8-119] However, it is easy to imagine that this happened much earlier, because citric acid was first isolated from lemon juice by Carl Wilhelm Scheele in 1784. [9]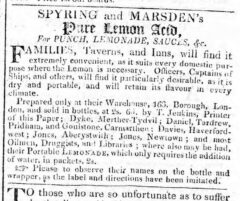 An advertisement in the Cambrian, published in Swansea, Wales, on 10 August 1811, advertises: "Spyring and Marsden's Pure Lemon Acid, for PUNCH, LEMONADE, SAUCES, &c." [6] … "where also may be had their Portable LEMONADE, which only requires the addition of water, in packets, 2s." [6]
Unfortunately, it is not said whether this instant lemonade was a still or sparkling lemonade after preparation. It is unclear when people started to flavour artificially carbonated water. However, it may be assumed that this happened very soon. So far, it has been reported that the oldest known reference to sparkling lemonade dates back to 1833, [1-11] but we have found a much older record.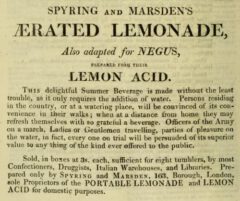 In 1813, the same company, Spyring and Marsden's, advertises its "Aerated Lemonade". This advertisement is the oldest record of an effervescent lemonade that we have been able to find and thus predates the first known mention by 20 years. The advertisement states: "SPYRING AND MARSDEN'S AERATED LEMONADE, Also adopted for NEGUS, PREPARED FROM THEIR LEMON ACID. THIS delightful Summer Beverage is made without the least trouble, as it only requires the addition of water. Persons residing in the country, or at a watering place, will be convinced of its convenience in their walks; when at a distance from home they may refresh themselves with so grateful a beverage. Officers of the Army on a march, Ladies or Gentlemen travelling, parties of pleasure on the water, in fact, every one on trial will be persuaded of its superior value to any thing of the kind ever offered to the public. Sold, in boxes at 3s. each, sufficient for eight tumblers, by most Confectioners, Druggists, Italian Warehouses, and Libraries. Prepared only by SPYRING and MARSDEN, 163, Borough, London, sole Proprietors of the PORTABLE LEMONADE and LEMON ACID for domestic purposes." [4]
This is an important indication from our point of view, because their "aerated lemonade … is made without the least trouble, as it only requires the addition of water … Sold, in boxes at 3s. each, sufficient for eight tumblers". So there was already an effervescent powder available for purchase in 1813 at the latest.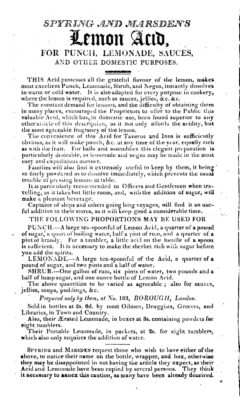 Finally, Spyring's advertisement from 1814 praises the company's products in great detail, including the effervescent powder: "SPYRING and MARDSEN'S Lemon Acid, FOR PUNCH, LEMONADE, SAUCES, AND OTHER DOMESTIC PURPOSES. This Acid possesses all the grateful flavour of the lemon, makes most excellent Punch, Lemonade, Shrub, and Negus, instantly dissolves in warm or cold water. It is also adapted for every purpose in cookery, where the lemon is required, such as sauces, jellies, &c. &c. The constant demand for lemons, and the difficulty of obtaining them in many places, encouraged the Proprietors to offer to the Public this valuable Acid, which has, in domestic use, been found superior to any other article of this description, as it not only affords the acidity, but the most agreeable fragrancy of the lemon. The convenience of this Acid for Taverns and Inns is sufficiently obvious, as it will make punch &c. at any time of the year, equally rich as with the fruit. For balls and assemblies this elegant preparation is particularly desirable, as lemonade and negus may be made in the most easy and expeditious manner. Families will also find it extremely useful to keep by them, it being so finely powdered as to dissolve immediately, which prevents the usual trouble of pressing lemons at table. It is particularly recommended to Officers and Gentlemen when travelling, as it takes but little room, and, with the addition of sugar, will make a pleasant beverage. Captains of ships and others going long voyages, will find it an useful addition to their stores, as it will keep good for considerable time. THE FOLLOWING PROPORTIONS MAY BE USED FOR PUNCH. – A large tea-spoonful of Lemon Acid, a quarter of a pound of sugar, a quart of boiling water, half a pint of rum, and a quarter of a pint of brandy. For a tumbler, a little acid on the handle of a spoon is sufficient. It is necessary to make the sherbet rich with sugar before you add the spirits. LEMONADE. – A large tea-spoonful of the Acid, a quarter of a pound of sugar, and two pints and a half of water. SHRUB. – One gallon of rum, six pints of water, two pounds and a half of lump sugar, and one ounce bottle of Lemon Acid. The above quantities to be varied as agreeable; also for sauces, jellies, soups, puddings, &c. Prepared only by them, at No. 163, BOROUGH, London. Sold in bottles at 2s. 6d. by most Oilmen, Druggists, Grocers, and Libraries, in Town and Country. Also, their Aerated Lemonade, in boxes at 3s. containing powders for eight tumblers. Their Portable Lemonade, in packets, at 2s. for eight tumblers, which also only requires the addition of water. SPYRING and MARSDEN request those who wish to have either of the above, to notice their name on the bottle, wrapper, and box, otherwise they may be disappointed in not having the article they expect, as their Acid and Lemonade have been copied by several persons. They think it necessary to annex this caution, as many have been already deceived." [3]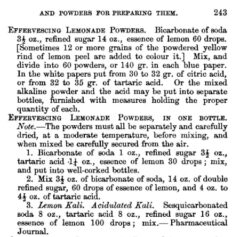 The next most recent find for effervescent powder that we were able to make is from 1850, where a recipe is given for how to make it. [7-243]
Summary
We have established that lemonade could be made not only from fresh lemons, but also from lemonade powder. This powder was produced in various ways and had been known at least since 1763. Citric acid was also used in its production. From the beginning of the 19th century at the latest, this was also advertised as a substitute for lemons in the preparation of punch. A powder for the simple preparation of sparkling lemonade has been around since at least 1813.
It is said that lemonade came to England via Italy and France. But did lemonade originate in the Mediterranean? Does it have a different origin? How long has it been made? The next post in this series will answer these questions.
Sources
explicit capitulum
*